At least ten players in the NL could make an argument that they should win the NL Cy Young Award. For example Johnny Cueto, Stephen Strasburg, A.J Burnett, Yovani Gallardo, and Arnoldis Chapman, just to name a few. This years NL Cy Young race is closer than ever, with so many deserving candidates. But of all the candidates, two men stand out from the rest. Gio Gonzalez and R.A Dickey. Cueto is leading the Nationals to the postseason, and has come up big for them whenever they've needed a win. Dickey is top 5 in every major pitching stat, including leading the league in ERA and WHIP. They are both great pitchers having career years, but who will win the NL MVP award? Read below to find out.
Once you've done that, vote on the poll at the bottom of the article. Make sure you vote wisely, because the winner of the debate gets $5.
Tomorrow the AL Cy Young Award article will be posted, so check out that article for more Cy Young debate.
[one_half] By: Jake Dal Porto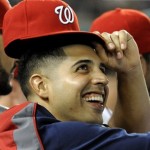 After being brought in during the offseason, Gio Gonzalez has clearly stabilized the Nationals' now dominant starting rotation.
However, he has made his mark on a bigger landscape than just Washington. What I'm saying is that he's a legitimate Cy Young candidate.
Here are four reasons why Gio Gonzalez should win the National League Cy Young award:
Strasburg Factor
To say that Gonzalez was affected by the attention that Strasburg received would be an understatement. It's not so much that he wasn't pitching well, but it's the fact that he wasn't getting  much credit for his success. Simply put, his fellow rotation mate was winning the headlines even on days when he wasn't on the mound. That's never
But now that the Strasburg antics have been put to rest until next year, Gonzalez is finally on the map. People are finally starting to realize what the real headline was in Washington for the majority of the year. Hint, it wasn't the Strasburg innings cap. And for his Cy Young chances, being on the radar of the National media is key.
Best Southpaw In The NL
With all due respect to Clayton Kershaw, Gonzalez has been the best lefty in baseball this year. He's third in the N.L with a strikeout per nine rate of 9.36, leads the NL in WAR (5.3), fifth with a 2.84 ERA, and leads baseball with 20 wins. It's safe to say that there hasn't been a southpaw better than him. At least in the National League.
Why is it so special that he's been successful as a left-hander?
Because since 2003, only one left-hander has won the Cy Young award. That would be the aforementioned Clayton Kershaw who won the award last year. Lefties winning the Cy Young just isn't a common occurrence which makes Gonzalez's case even more compelling.
Consistency
Gonzalez has been a replication of consistency this year. He has only allowed more than three runs six times this year, a vast improvement upon last year where he allowed more than three runs in a start ten times.
Gonzalez's improved consistency is mostly due to the fact that he's cut down his walks totals. The lefty's current walk per nine ration of 3.40 is also an improvement from 2011 where he posted a 4.05 walks per nine mark. While his current 3.40 mark isn't necessarily among the upper echelon of pitchers, it's definitely worth noting. It's also worth noting that his walks totals have dwindled down with each year of experience he endure. To dumb it down, Gonzalez is a changed pitcher from since he first broke into the major leagues.
His consistency has ultimately enabled him to log more innings, which does wonders for his strikeout totals, wins, and essentially any other stat that involves durability. Simply, he has had more innings to pad his stats.
Nationals Win When He Pitches
It's one thing to have good numbers and your team finds a way to lose, but it's another thing to have good numbers when your team comes out on top.
When Gonzalez pitches for the Nats, they are 23-8 thus far this year. To compare that record with other perennially winners, it comes out as a winner. The Mets boast a 21-10 record when  R.A. Dickey pitches. When Johnny Cueto pitches that Reds are 20-11. And when Matt Cain pitches, the Giants are 20-10. Yes, it's really marginal separation between the four, but it's just another advantage to Gonzalez.
[/one_half]
[one_half_last] By: Baily Deeter
Raise your hands if you knew who R.A. Dickey was last year. Everyone, put your hands down.
Normally, it would be criminal not to know the name of a Cy Young candidate (and should-be winner) the year before he took home the award. However, in R.A. Dickey's case, it's alright. Dickey burst onto the scene out of nowhere in 2012, and he is currently top 6 in all the major pitching stats, and leads the league in ERA and WHIP. Oh, and he's playing for a team that ranks 22nd in the league in runs scored and has the worst bullpen in baseball.
Dickey revamped his pitching style by adding a knuckleball, which is almost unhittable. Dickey can't throw 90 miles per hour, but he finds ways to be effective with his off-speed stuff. His pitches move a ton, and hitters have frequently whiffed at a nasty knuckleball or watched a slow pitch make it's way into the strike zone for the third strike.
The star pitcher has thrown two one-hitters this year, and one of them could've been a no-hitter (there was a questionable scoring decision). He has been consistent all year and has already hit 200 strikeouts (he currently has 109). Dickey has only started 31 games this year, and he averages a mind-blowing seven strikeouts per start (and a K/9 rate of about nine strikeouts per nine innings).
Dickey's WHIP is 1.04, meaning that on average, about one guy gets on base per inning (which is incredible). Opponents are hitting a meager .221 off of him, thanks to his hitter-eating stuff. He averages over 100 pitches per game, which means he can keep his arm fresh despite throwing tons of knuckleballs, fastballs and changeups. All of those stats add up to one thing; an amazing pitcher.
I was lucky enough to see Dickey in person this year, and even though he didn't have his best stuff, he turned in a nice performance and picked up a win. Dickey pitched seven and one-thirds innings and allowed three earned runs in a win against the Nationals in early July, ending a long losing streak for the Mets. He was able to get hitters to chase his pitches and watch some strikes, and by mixing pitches up effectively, his stats weren't terrible for that game even though he didn't have his best stuff.
Gio Gonzalez has been great for the Nationals, but his stats are inflated because of the talent in that Nats lineup. Also forget CY Young, Gonzalez might not even be the best pitcher on his team! Strasburg looked real good before being pulled for the season. Gonzalez is probably Dickey's main competitor for the award, but in my mind, there's no doubt Dickey should win the award.
Gonzalez has a 1.12 WHIP, a 2.84 ERA, a 20-8 record (Dickey is 19-6), 201 strikeouts, an 8.17 K/9 rate and a .249 opponent batting average. If you check Dickey's stats, his are better than Cueto's in all of those categories except wins, which can be blamed on the Mets inability to score runs . Despite his inability to throw hard, Dickey has been able to strike hitters out, jam hitters, and effectively mix up his pitches to win games for the Mets. Cueto has done that and logged innings (although he has one more start than Dickey and 5.1 less innings pitched), but he hasn't been as consistent.
So, because of everything R.A. Dickey has done this year, he should be the obvious choice to win the 2012 NL Cy Young award. [polldaddy poll=6564594]
[/one_half_last]
Follow @Bustasports on twitter for more daily sports updates.