Tebow or Sanchez, that is the question. The question every NFL analyst, writer, editor, GM, coach, and fan is asking themselves as they recognize how glad they are they don't have to make the final decision. That's up to Rex Ryan, as he's faced with a terribly difficult decision.
Does Rex choose to stick with Mark Sanchez, who was expected to lead this team to the playoffs this year, and instead has lead them to many interceptions and a terrible start to the season. Or does Rex go with Tim Tebow, the obvious fan-favorite, who can run like an RB, tackle like a DB, but unfortunately can't throw like a QB. Neither choice is ideal for Rex, but he'll have to make a decision come Monday. So will it be Tebow or Sanchez? Read below to find out.
Once you've done that, vote on the poll at the bottom of the article. Make sure you vote wisely, because the winner of the debate gets $10.
[one_half] By: Nathan Palcowski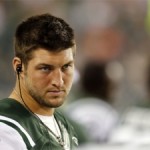 It's that time of year again! T..E..B..O..W!!!!
With the New York Jets at 2-2 and the supposedly franchise quarterback Mark Sanchez basically sucking it up, except for one week. It's TEBOW time in New York City!
The Jets are 2-2 and Mark Sanchez except for week one has not been great and returning back to form as the inconsistent quarterback that NFL columnist came to know and love. Sanchez has thrown for a dismal 813 yards, five touchdowns and four interceptions.
While Sanchez hasn't been doing so hot on the field, Tebow, the ultimate weapon at quarterback has been sitting on the sidelines waiting for stubborn head coach Rex Ryan to give in and give him the shot that he deserves. Now I understand that the two losses have been some of the toughest defenses in the league (San Francisco, and Pittsburgh) but even against the Dolphins, they had to go to overtime to barely win.
Everybody saw what happened in Denver last year when Tebow took over the starting job. He went on to win 7 out of the last 8 and help the Broncos win the AFC West and a first round playoff game. Which by the way is more playoff games won last year than NFL MVP Aaron Rodgers.
The same exact thing is happening right now in New York. The offense is struggling and they need a spark and quick to salvage the season. Tebow is the answer. Even the fans at the game last Sunday were chanting "Tebow!" Whether you want to call the bringing in a media stunt for the Jets to grab the front page headlines, let the case show that Tebow is the way to go for the Jets.
For all the people and probably my fellow debater, who think Tebow can't throw and that doesn't make him a good quarterback that can lead an offense. They must be blind to the fact that he threw for 316 yards last year in a PLAYOFF game against the NFL number 1 ranked defense. Or that Tebow ranked in the top 10 in pass completions of plays of 20+ yards. It's clear that the man can throw!
Tebow will miss throws from time to time yes, and his stats might be ugly at the end of the game. But the most important thing of all, and the number one reason why he should start for the Jets.ALL HE DOES IS WIN!
In the New York culture and media where if the Jets aren't winning, it's like hell freezing over, Tebow can come in and revitalize an offense that is ranked 27th in passing yards and 24th in rushing yards and help them out tremendously.
For all the critics that hate so much on Tebow, all I have to say is that why not give him a shot? If he fails, then your point has been proven and that will add more fuel to your argument. But see, I think that is the thing, people don't want him to start because they know that once the fourth quarter hits, it TEBOW TIME! [polldaddy poll=6578979]
[/one_half]
[one_half_last] By: Phil Watson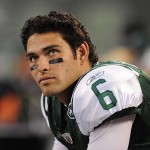 After the New York Jets were blasted by the San Francisco 49ers at MetLife Stadium in the New Jersey swamps on Sunday 34-0, the Jets' fan base was abuzz with calls for Tim Tebow to replace struggling Mark Sanchez at quarterback.
That would be a mistake of monumental proportions.
Sanchez is struggling this season, without question. His 49.2 completion percentage is the worst among qualifying quarterbacks in the NFL and his quarterback rating is a tepid 69.6. He has thrown five touchdown passes against four interceptions and was just 13-for-29 for 103 yards and a pick against the 49ers.
So why is he still a better option than Tebow?
For starters, it's because that 49.2 completion percentage is positively Joe Montana-esque when compared to Tebow's 46.5 mark in his only season as a starter in the NFL, last season with the Denver Broncos.
Tebow has thrown one pass as the Jets' so-called "Wildcat" quarterback in 2012 and the nine-yard completion nearly resulted in getting tight end Dedrick Epps killed against the 49ers on Sunday. The high floater Tebow tossed over the middle to Epps was complete for a nine-yard gain but he left Epps so defenseless that he was unable to avoid a huge hit that created a fumble and a turnover.
Tebow didn't exactly set the world on fire in the preseason, either. In three games in August, Tebow was just 13-for-36 (36.1 percent) for 151 yards and two interceptions.
Sanchez is struggling with accuracy right now. But Tebow has always struggled to make accurate throws since leaving the University of Florida as a surprise first-round draft choice by the Broncos in 2010. No quarterback in recent memory has fired so many passes to open spots of grass five yards in front of his receivers than Tebow did in 2011.
I know the top argument that Tebow supporters love to throw out there: All the kid does is win (©2011, Skip Bayless, ESPN "First Take). But for all of the hype about his winning, he was 8-6 in 14 regular-season starts and 1-1 in two postseason games for the Broncos in 2010-11. Sanchez was 27-20 in the regular season from 2009-2011 and 4-2 in the playoffs. So which guy is it that "just wins" again?
Tim Tebow is by all accounts a fine human being. But how many bad passes does the guy have to throw before the notion begins to sink in that he's just not an NFL-caliber quarterback?
Mark Sanchez is off to a rough start in 2012. But if the Jets are really looking for a change at quarterback, they'd be better off to consider Greg McElroy than Tebow. At least McElroy can hit what he aims at more often than not.
[/one_half_last]