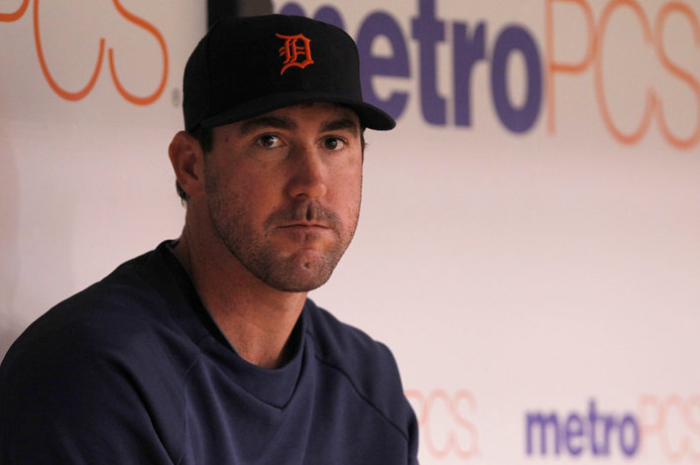 Stud, star, ace, all of these words have been used to describe Justin Verlander.  So why is a guy that is just 2 seasons removed from winning both the Cy Young and MVP award, going 25-4, looking dare I say it, average?  His fastball, which can top out at over 100 mph, has been tremendously hittable.  His off-speed pitches don't seem to have the bite they once did, and if the reactions I hear on the radio talk shows are an indication of how the majority of fans in Detroit feel, they aren't comfortable with him pitching in the starting rotation once the post-season begins.
Of course, if I've learned one thing about fans in the Detroit area, it's that when things are going good, an all-star squad couldn't beat their teams, and when things are going bad, tall buildings need to be off limits.  Now to be fair to JV, his stuff has been slightly off this year.  A fact he's admitted, though it took a bit of prompting from reporters in post game interviews.  Verlander is a master of his craft.  Someone that has accomplished the things he has, doesn't easily admit defeat.
There are many schools of thought on his struggles: his Kate Upton connection/breakup, the fact that he's pitched so many innings over the past couple of years, batters have "figured him out", or possibly the effects of a newly signed 10-year $219 million dollar contract.  Whatever the cause for his numbers to be down across the board, if there is one pitcher in Major League Baseball that can find a way to rise above it and salvage a season, it's Justin Verlander.
While he has been less Verlander-esque than we are used to seeing, he is still on pace for 200 strikeouts which would be his fifth straight season eclipsing that mark.  All it is going to take for JV is that one start where he "figures it out".  The Tigers have a 5 and a half game lead on Cleveland in the American League Central, and they look to be in control going down the stretch.  If Verlander can somehow recapture just a little of the magic in that right arm, this could set up to be a very exciting October in the D.
Photo credit: USA TODAY Sports