After the last of the confetti was cleaned up from the Super Dome in New Orleans, and the lights dimmed on the NFL season (after dimming during the game), one must now look to what is next for both Super Bowl XLVII participants.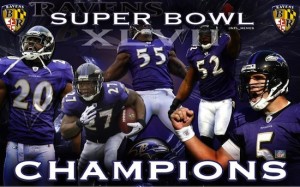 Baltimore Ravens
Coming off a victory on the biggest stage, it should seem fitting to start off with the champs.  With the salary cap restrictions this team is coming into, the units you saw on the field on both sides ofthe ball will be drastically changed when next season rolls around.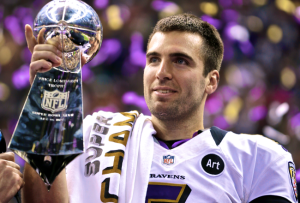 Offense:
On offense, the number one task will be to re-sign QB Joe Flacco to a contract extension.  After leading his team to 5 straight playoff appearances, and a playoffs this year where he passed for 11 TDs and not one interception, the latest Super Bowl MVP could potentially receive one of the biggest contracts among QBs in the league.  With that much new money being allocated to him, Baltimore will be hard pressed to re-sign a number of other free agents, and may see them walk away from the team.  Wide Receiver, and top pass catcher Anquan Boldin may be released to free up cap room.  Even though this team has struck gold with Torrey Smith, they may have to look to the draft to find another wideout to fill the place of Boldin.  Although the loss of a wideout the caliber of Boldin will be hard to replace, they do have tight ends Ed Dickson and Dennis Pitta to help as weapons, and Torrey Smith and running back Ray Rice should always be expected to contribute at a top-level.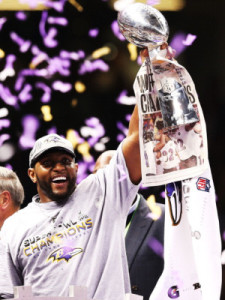 Defense:
This defensive unit should be where the biggest hits might be felt.  With the retirement of Ray Lewis, the unquestioned team leader will be gone.  Along with him, Dannell Ellerbe might also find himself on a new team.  That would open up a huge void at middle linebacker that would have to be addressed in the offseason.  Paul Kruger and Jarret Johnson, both rush linebackers, could find better offers on the open market.  Although both losses could help, it could be helped by an emerging Courtney Upshaw and Terrell Suggs.  Even if the Ravens do manage to re-sign some of their Super Bowl pieces, the biggest question mark could end up being legendary safety Ed Reed.  He could find top money on the open market, and has already expressed an openness to playing on another team.  This unit may end up being the weak link next year after so many years of carrying this team.
Now on to the ones who came up just short of winning it all…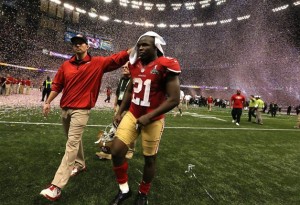 San Francisco 49ers: The 49ers came a few yards away from pulling off one of the biggest comebacks in Super Bowl history.  The future looks strong for them, but like with any team, there is a few things they could upgrade to ensure a chance to make it back to Super Bowl XLVIII.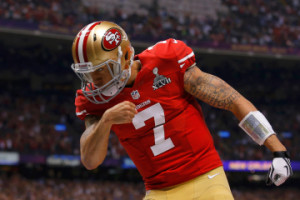 Offense: With this being such a young team, most of their pieces should remain in tact.  They will go into next year with one of the best offensive lines in football once again, and a QB that should be taking snaps for years to come. The question will come to the receiving core again as they will have to decide whether to bring back a declining Randy Moss who has already stated he wants to play again, and who will fill the spot of Mario Manningham, a signing that never actually panned out.  They could decide to get a look at AJ Jenkins, a player that was drafted but saw little to no playing time all year.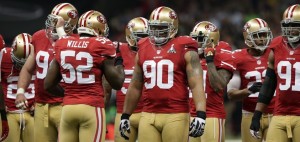 Defense: This unit, like the offense, has little to worry about in valuable parts that could be departing.  Unlike the other side of the ball however, they do have to go back to the drawing board to shore up areas that they would like to see improve.  On the defensive line, they would be wise to try to add another rusher that could attack the QB.  After Justin Smith got hurt, Aldon Smith was virtually invisible.  The pass rush in general needs to be upgraded so that so much pressure is not on the defensive backs.  Speaking of them, the defensive backfield was a big letdown during the Super Bowl.  They would be wise to attempt to add a third corner, and potentially a ballhawk at safety.  If the 49ers make these additions, we could easily see them again next year playing for all the marbles.