#1 Oklahoma City Thunder vs. #8 Houston Rockets
If there was ever an eighth seed that could pull a fast one on the NBA, it was the Houston Rockets. Don't get me wrong here, I'm not calling an upset. The Rockets can't beat OKC in a 7 game series, but they can scare the heck out of them; which is exactly what will happen. The key to this series for OKC is to slow things down. Houston is a run and gun team, and rely the most on the offensive end of the floor as shown by their possession of the faster pace of play in the entire league. Lin and Harden are both underrated defenders, and every now and then Chandler can swat one into the fifth row, but beyond that, don't expect OKC to get mugged on the defensive end of the court. The speedy Russell Westbrook with the oh-so clever Kevin Durant should be more than enough to give Houston a taste of their high-scoring medicine. As good as Durant and Westbrook are, the Rockets are a above average home team, and will prove to give them a headache. Almost every game in this series is going to be a close one, with what I think will become a classic scoring battle between friends-turned-enemies James Harden and Russell Westbrook. Despite the amount of effort put forth by the Rockets and the amount of clutch shots James Harden is going to drill, I have OKC winning the series in 6 games. The Thunder are simply a more talent-saturated team. Just the same, Houston will have us all going for a second.
Final: Oklahoma City Thunder in 6 games.
#2 San Antonio Spurs vs. #7 Los Angeles Lakers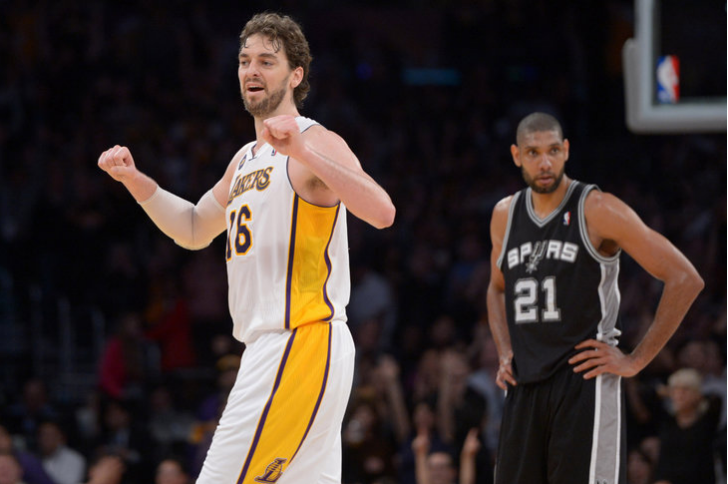 I like upsets as much as the next guy, but this one isn't going down well for LA. San Antonio leads the league in assists, is second in field goal percentage, fourth in scoring, third in defensive rebounds, defensive efficiency, and true shooting percentage. It doesn't matter Manu Ginobli is injured. It doesn't matter if Danny Green can take the pressure. It doesn't matter how old Tim Duncan is. After strolling away from the season with a 58-24 record, and the third best record in basketball, you can say it's been a good season. Thanks to injuries, and just generally poor play, its been a rough season for the Lakers. With Kobe down, the final nail seems to be hovering above the purple and gold coffin, with Tim Duncan holding the hammer. The Lakers seem to be in a position in which whatever they can do, San Antonio can do better. In fact, without Kobe the Lakers only real chance for buckets is through their front court. Usually, I'd say having Dwight Howard in the paint is a pretty safe bet when a team is looking for points, but when he has Tim Duncan on him? Maybe not. Tiago splitter is not stiff either. Steve Nash can still erupt and shoot the lights out, but there's no way he can keep up with young guard Tony Parker, who will probably limit him defensively as well. LA might have a punchers chance if they could stop Tim Duncan, but if they did, it would be a first. Unfortunately for the Lake Show, a season that started with a bang is going to end with a whimper.
Final: San Antonio in 4 games.
#3 Denver Nuggets vs. #6 Golden State Warriors
Somewhere along the line in the NBA community's quest to give the Warriors credit, we gave them so much credit, they became overrated. I am unsure as to why, but multiple sources have Golden State pulling out the victory in this series. It isn't farfetched to predict this series going 7 games, especially with two very similar teams. Both relish the run and gun offense, scoring, and young players. They represent the modern team and the NBA of tomorrow. That being said, the Nuggets just happen to be better at it. Denver is fifth is offensive efficiency while Golden State is tenth. Denver has the second fastest pace in the league while Golden state has the fourth. A slight advantage also goes to the Nuggets in field goal percentage, true shooting percentage, and defensive efficiency. All of the factors that make a up-tempo speed-team are present in both teams, with Denver being just a little bit better. However, we must keep in mind this is a Nuggets team without Danilo Gallinari. If he was present, I could comfortably give this one to the Nuggets in 4 or 5 games. Without him, the Nuggets are in a slightly more vulnerable position. With Golden State being as close to Denver as they are in quite literally every stat, the loss of Gallinari could be just the edge needed to level the playing field. That being said, and in spite of Steph Curry, the Nuggets simply have more playoff experience with a greater number of big-time players. Even if you've never watched a basketball game in (what would be your pretty sad) life, watch this series. It's going to be great. For Denver, anyway.
Final: Denver in 6 games.
#4 Los Angeles Clippers vs. #5 Memphis Grizzlies Hoo boy.
Easily set to be one of the most emotional and intense series in the playoffs, Memphis vs. LA will be as epic as it will be memorable. A wise NBA philosopher might call it a "bar fight". After defeating the Grizzlies in a hard fought series last year, only to be swept out by the red-hot Spurs in the next round, The Clippers look to finally become relevant and step forth from the playoff shadow of the Lakers. The Grizzlies, a slightly different, yet gritty as ever team looks to prove themselves as legitimate contenders. The beauty of this series will be in that both teams have identical records, immense hatred of one another, and completely contrasting styles. The highflying ways of Hollywood are in sharp contrast with the grind-it-out, hustle-up style of The Grizz. Tony Allen won't render Chris Paul useless, but he won't be the X-factor in the series, in my opinion. What the series will truly come down to is a frontcourt battle. With the offensive minded big-man tandem of DeAndre Jordan and Blake Griffin against the defensive paint patrol of Zach Randolph and Marc Gasol, the differences between these two teams are really going to show. That being said, while Jordan's defense has improved as of late, Marc Gasol will simply be too much for him. With Zach Randolph being the underrated scorer he is, and Blake Griffin the suboptimal defender, the advantage goes to Memphis. Memphis having the second best defensive efficiency rating as opposed to LA's 9th confirms this. That is why I have to give what will be a very close and edgy series to the Memphis Grizzlies. Final: Memphis in 7 games.