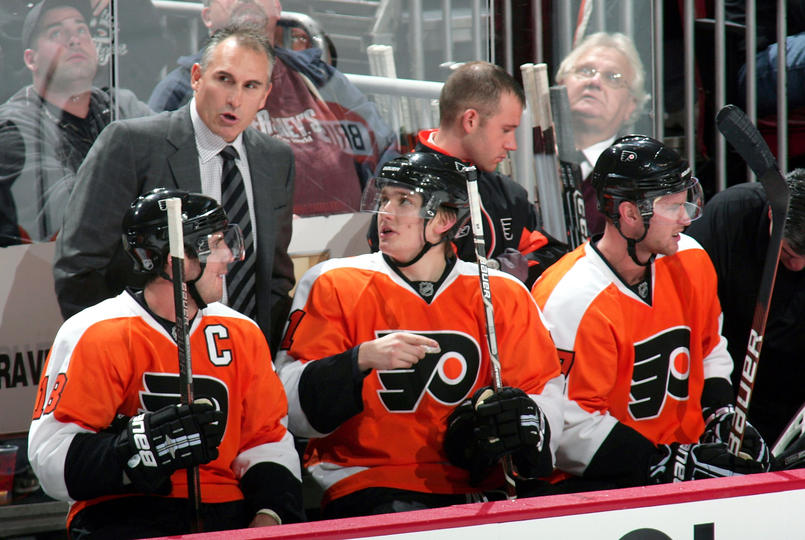 The "Chief" is now the chief man in charge. Earlier today Peter Laviolette was relieved of his duties as the head man in charge of the Philadelphia Flyers.
Assistant Craig "Chief" Berube was announced immediately as the replacement
Did Laviolette lose the locker room?
Should G.M. Paul Holmgren be looking over his shoulder with Ron Hextall back in the organization as the Assistant G.M?
Will the youngsters step up and meet the expectations of those that believed in them?
DID THE FLYERS HIT PANIC MODE AND MAKE THIS COACHING CHANGE WAY TOO EARLY?
Are the Flyers just not as good as their history dictates us to believe?
All the above thoughts and questions will show themselves quite quickly as Berube is a man that holds people accountable for their actions. He was a rough and tumble player from Calihoo, Alberta that grew up around multitudes of cousins on and off of the reservation.
Berube honed his pugilistic skills in the WHL, battling nightly with and against NHL veterans like Mick Vukota, Shane Churla, Ken Baumgartner, Todd Ewen, Dave Manson, Mike Keane, Wendell Clark, and Joey Kocur amongst others.
These were men who knew their role, and did it well. They held opposing players accountable, and expected their teammates to tow the line as well in terms of commitment to the others in the room.
Somewhere along the line, since the Flyers lost in the finals to the Chicago Blackhawks, they have lost their way, and there is no better man, than a man who has paid the dues like Chief has done.
He apprenticed for this role as the coach in the Flyers minor league system, and served time under Laviolette as well.
Only time will tell if the Flyers jumped the gun too early, or if having the glaring stare of Berube upon them will lead them back to a chance to raise Lord Stanley's Cup.