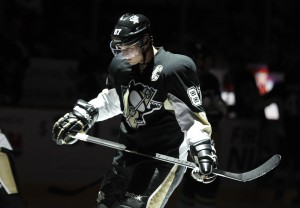 Last night the Pittsburgh Penguins put on a clinic against their rivals, the Washington Capitals.
This game was much more than Crosby vs Ovechkin, although Crosby's performance was definitely more evident in the action, and he might just hve scored what will be considered a finalist for goal of the year.
Pittsburgh had been struggling as of late, but this performance puts them right back on the map of serious contenders.
They looked great in all 3 zones, and in all facets of the game, but could there be a concern that they are peaking too early?
Washington had several opportunities early on the power play, setting up Ovechkin for his famed one-timer from the half board, but Marc-Andre Fleury was stellar in his performance, and that can only mean bad news for the conference if "Flower" is back to his old reliable self.
Recent call-ups have also been contributing, and for the newer generation to come in and feel so comfortable is another sign that the penguins are comfortable with who they have "in the room" so to speak.
Each guy knows his role, and that's the beginning recipe for winning championships.
Hockey players go through the hardest playoff sessions in professional sports in their pursuit of Lord Stanley's Cup, so trusting the guy next to you in that battle is not only imperative, but honestly, the only way it works.
Many teams over the years may have had players that didn't get along off the ice, but damned if they didn't look like 20 brothers out there each and every night during the Cup run.
It's early days, and teams should go through the typical ups and downs, but I have to believe that the Penguins on all cylinders might be very tough to keep away from lifting the Cup this season.