Phil Kessel was brought into the Leafs organization just before the 2009-2010 season in a trade that has been debated by many throughout the last few years. Here is an overview of how that day went down; well atleast from our standpoint. Also there is a commentary on the deal a little farther down.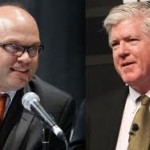 SEPTEMBER 18, 2009.
The following dialogue may or may not have taken place between Leafs GM Brian Burke and Peter Chiarelli, the Boston Bruins General Manager (Burke = B, Chiarelli = C):
B: Hey Pete, my team can't score what can you do for me?
C: An age range that you are looking for?
B: Preferably someone really young, that way he can be harassed by Leaf Nation for many years, taking all the blame off me!
C: Genius, Brian. Phil Kessel is coming off a 36 goal year in his sophomore season.
B: Who was he playing with?
C: Marc Savard.
B: How many do you think he would have without the services of Marc Savard?
C: Hmm around two…probably on his own net, Savard sort of guides him the right way. You guys could need him for McCabe, maybe a lesson?
B: (turned around to staff growling) Get Matt Cooke on him.
B: (back in happy spirits) I like him already. Is he American?
C: Yes, I know you like to overpay your American players, your way of supporting the economy.
B: I sure do, what are you looking for in return, wait does he talk?
C: No, not really.
B: Great! Leafs media will love him.
C: Back to the deal, I want Jason Blake and a conditional 7th rounder.
B: Condition?
C: We get the 7th if Kessel doesn't backcheck.
B: (under his breath) I'll just give you the seventh.
B: However, Jason Blake is too big of a force to this anti-playoff team. He's not available, you know I love his contract.
C: Jeff Finger?
B: Don't even go there he's not going anywhere, he really makes a difference to our AHL squad, love his contract, locked up long-term.
C: OK, lets talk about a deal without contracts, what about picks?
B: Now you're talking Petey.
C: Don't call me that.
B: OK, I'm thinking two firsts and a second, the first is probably going to be a lottery.
C: How do you know?
B: Antropov's gone, were done. No one can replace him.
C: It's certainly a blow. OK Brian, it's a deal.
B: I'll call Bettman.
C: Can I? I would like to talk to him anyway about…nothing.
B: No, I'm calling, I want to invite him out to lunch. My treat. We have a few things to talk about…
———————————————————————————————————————————
First off, let me say that I am a big fan of Brian Burke (I believe in Burkie). I think that he doing a really good job if you look at what he was given. I think he has a good team out there, they are just not playing up to their potential for reasons I am not getting into (WILSON!). The above dialogue has nothing against him, just meant for some humour.
THE FINAL TRADE: PHIL KESSEL for 2010 1st (TYLER SEGUIN), 2010 2nd (JARED KNIGHT), 2011 first (DOUGIE HAMILTON).
I think that the Boston Bruins won this trade very narrowly, but it would have been the other way around if the Boston pick in 2010 was lower. First, lets examine the trade, then I'll give my reasons. Phil Kessel was drafted 5th overall in the 2006 Entry Draft. The first rounder was essentially in exchange for him. However, you can't just trade a first rounder for a first rounder especially when Kessel was producing (36 goals in his SOPHOMORE season, yes even with Savard) and it was ASSUMED that the Leafs would finish higher than second place. This is the reason for the other first rounder. That makes the deal even. However, usually the team offering this sort of deal takes a fault, as you bring it up especially when draft picks are involved. This mixed with the idea of sweetening the deal adds the second (hopefully at this point to the latter of the 2nd round, hard to get a draft gem, and easy to blow the pick.) Another thing that contributes to this deal is that Kessel was already at NHL playing level, while one drafted in the mid first round would take a little time to get ready. That definitely played a factor. Nothing can be compared directly to each other but all the picks make up the trade.
Lets look at the players (all totals as of March 2nd, 2012)-
Phil Kessel has a total of 160 NHL regular season goals. He has thirty-two so far this season and might even reach the 40 goal plateau. Some other stats (all regular season): 153 assists, -23 +/- (2/6 possible playoff appearances and one was a forst round sweep), and 121 PIM's. From this season, it seems apparent that he will be among the top goal scorers for many years to come, and imagine if he had a centre?
Tyler Seguin as of right now looks like the top player on the other side of this deal. He was drafted 2nd overall in 2010 and has already won the cup. Tyler has played 135 NHL regular season games scoring 32 goals and adding 42 assists for a total of 74 points. This year, he is close to a PPG pace but perhaps his most amazing statistic is that he is leading the league in +/- at a +33. Of course if he was playing on a team other than Boston that number would be significantly lower, it's just that it's odd that one of the top three picks would go to the team that won the Stanley Cup the previous year. His point totals would also drop quite a bit. If you put Mike Brown with the Sedins, he is obviously going to collect some major points. Overall, Seguin is a great player, but his numbers are definitely boosted.
Jared Knight was the 32nd overall draft pick of the 2010 Entry Draft. He has yet to play an NHL game, but is having a very good season (48 points in 43 games) with the London Knights of the Ontario Hockey League. Next year he will likely make his way to Boston's AHL squad, and might have a chance of cracking the lineup in the next few years.
Dougie Hamilton is a high regarded power forward playing for the Niagara Ice Dogs of the OHL. He was drafted 9th overall of last years draft. So far this season he has 63 points in 42 games, while racking up 45 PIM and recording a +30. Last year, he was nearly a point per game player (58 in 67) and had 77 PIM with a +35. He is certainly a very good player and might crack the deep lineup next season for the Bruins. Sounds like a Burke type of player to me! He was also born in Toronto.
Saying this, if the Leafs didn't acquire Kessel, it is not given that we would have had these exact players. We might have done better or worse because you never no what could happen. I am sick of people saying that Tyler Seguin would be scoring so much for the Leafs and Dougie Hamilton should be helping Jeff Finger in the AHL! Nothing can be assumed, and who says Burke would have drafted those exact player even IF we cam in the same place TWO YEARS IN A ROW.
In conclusion, the deal is pretty fair, but the only reason the Bruins get the edge is that they got lucky when the Leafs finished poorly and got good picks and good players from these picks (Seguin, Knight, Hamilton) that everyone assumes are going to be very good. But to really decide this deal, we have to see where all these players (even Kessel) end up as they are all really young, and that is about a decade away. As I normally say though, one can't really decide a deal until the players have all retired.
Thanks for reading. Although a little longer than I had hoped I hop that you really enjoyed it and maybe got a few good laughs.