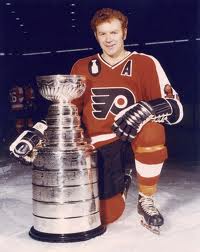 Terry grew up in a town called Parry Sound, Ontario, located about 100 miles south of Sudbury, and 140 north of Toronto. The name of the town might ring a bell to you, as there was another famous hockey player from there as well, by the name of Bobby Orr.
I've had a nice run in this game, but Bobby might just be a little more famous. (Laughing) Growing up like most Canadian boys, I'd be pinned to the radio for Hockey Night in Canada, listening to Foster Hewitt.
When asked about any funny stories of hockey while growing up, he recalled that In our local town we were church going people, and so one day Father Hart comes up to me and says "Hey Terry, I got you a full ride to Providence College, and I 'd like you to go" I was so grateful that he had done that, but I ended up passing on it, and continued my pursuit of Hockey through the Juniors route.
Main reason I passed on that opportunity, was that I had no idea where Providence was. I often think back to that time, and wonder what would have been different if I would have accepted the offer.
The lesson here is that I should have at least investigated it a little further, at a minimum finding out where Providence was !!!.
I asked when his life changing Hockey moment where it all kind of came together and he said it came from his number one fan, his wife.
In his 3rd year of pro after traveling around in the minors those first years, he didn't see it going anywhere, and had just been married, so he thought he'd head back home and become a teacher.
That decision lasted for about a minute as she announced that in no uncertain terms was he going to give up and then talk about it for the rest of his life about how close he had become.
The minor league team had been moved from Minnesota to Oklahoma City, and we eventually went on to win 2 championships there, and then with the expansion from 6 teams to 12, many of us were then given our chance to play in the NHL. I was then drafted in that expansion to the St. Louis Blues
In terms of gaining a roster spot back then, let me tell you that the Old Boys Club (The Veterans) could freeze you out in a hurry if they thought you might take the spot on the roster of one of their friends.
They had ways of just showing you up on the ice, and if that didn't work they'd just continue to set you up with sucker passes or hospital passes as their called now, or just dump the puck in your corner continually so you'd get laid out.
We talked about that everyone associates that 70's era team of Flyers with their "Bullies" moniker, but there's no way to win 2 Stanley Cups with out having some talent.
Terry's  response was that "We had a very talented group of players like Parent, Ashbee, Dupont, the Watsons, Kindrichuk, Leach, Barber, and Clarke amongst many. Each guy had a role to play, and we caught many teams unaware as they just focused on the swashbuckling antics. We were a very hard nosed, hard working team, but we succeeded and won championships because we were skilled as well, and coached by my mentor Fred Shero, who was a genius"
Recalling his childhood development years, when we were growing up, we knew our neighbors, and we played out in the streets with them, till mum called us in to eat dinner. The streets were always filled with friends, and relatives, and we played together for hours each day.
Nowadays everyone at 10 or 11 years old has a personal trainer, and a private workout program, but no one to play with in that natural progression I mentioned earlier where basic skills are learned and mastered by playing the game.
He was hired to coach the Calgary Flames having to follow a legend in Badger Bob Johnson. He had left to be with USA Hockey.
First thing I did was to inform the Owners and Players that I wasn't Badger Bob, and couldn't be him.
I was coming in there to stamp out my own footprints. Cliff Fletcher built that team, and knew that the road to the Cup went through Edmonton, so we had to match them with size, speed, and skill.
You can look down that roster at the guys they had in Ramage, Mullen, McCrimmon, Loob, McDonald, Suter, MacInnis, Fleury, Roberts, Nieuwendyk, Peplinski, Otto, Tim Hunter, just to name a few.
I was a hard taskmaster, but to the credit of these guys, they held each other accountable. He didn't need to go in and win the locker room each and every night, by calling players out, and laying the law down.
They knew their roles, and they accepted the challenge of getting the job done.