Everyone knows the superstars of the NBA. LeBron, Durant, pretty much the entirety of the Lakers. These people are household names. Bandwagons pop up here and there, pockets of random fans from around the country. People who assume they have no team tend to gravitate toward the players, and their respective teams, with the flashiest dunks. Be honest with yourself, how many "Heat Fans" do you know that have nothing to do with South Beach? While the Kobe's and Rondo's of the league get the most love, there are some serious contributors getting overshadowed by their superstar teammates. I think if these big stars were not around to take up the spotlight, it would go to these guys.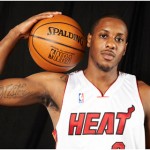 Mario Chalmers, PG, Miami Heat
I think the heading says enough. If you play for Miami, and your name is not Dwayne, Chris, or LeBron, no one cares about you. This is simply part of playing for the team. Miami has incredible talent in Udonis Haslem, Mike Miller, and most recently Ray Allen. Just the same, you will not hear about any of these guys this season unless they do something with LeBron. Exhibit A: Mario Chalmers. As a Boston fan, I can't stand Chalmers.
The 26-year old is cocky, tenacious, and to sum it all up; annoying. Just the same, his talent is simply undeniable. It behooves me how a player of that caliber is under looked in the best PG in the league conversation. Unfortunately, Chalmers gets the "Rondo Treatment" from the media. The logic is simple: "Anyone can be a great point guard when you can dish to a slew of superstars". Chalmers easily makes my top 10 point guards. He would certainly be a star if he had his own team. Imagine sending him to some obscure team with a weak front court like Toronto or Utah. He would be a household name in a season! Suddenly every analyst would be scrambling to find out how this incredible talent suddenly came about. When, in reality, he was there the whole time. It's hard to look like a great basketball player when LeBron James is standing next to you. While he only averaged 10 points a game this season with only three assists, Chalmers still finds a way to do work. Besides his tenacity on defense, the NBA Champion is just a quality shooter. When you have to share the ball with the likes of the Big 3, you must make every shot count. Last season, Chalmers posted a career high .448 field goal percentage, while draining yet another career high of .388 from downtown. These stats also don't show Chalmers impressive ability to take over games. Game 4 in the Finals last season is the perfect example. Once Chalmers turned on, it was all over for OKC. Chances are, you haven't heard of Mario Chalmers. In all honesty, Miami has a Big 4.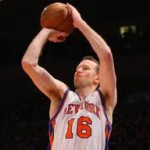 Steve Novak, F, New York Knicks
There is a saying constantly used by announcers and broadcasters alike; "Live by three's, die by three's" If you are Steve Novak, you live by three's, then live by three's some more. Scratch that, if you are Steve Novak, three's live by you. If you told Steve Novak shooting inside the arc was allowed, it would almost certainly be news to him. When it comes to three's, Kobe is on the Novak system and Michael Jordan wears Air Novaks. Steve Novak's rapper name is "Trey-Crazy". The only reason Steve Novak shoots so many three's is because the hoop is afraid of him. If you hit a three pointer and Steve Novak hits a three pointer, Steve Novak scored more than you. Steve Novak has never actually been in the paint. Steve Novak thought layups were against the rules. Steve Novak thought the other players were joking when they missed free-throws. Steve Novak has beaten so many buzzers, he had an assault lawsuit filed against him. Get the idea?
Steve Novak has one job to do. And man, does he do his job well. Novak actually led the league in 3-point field goal percentage this season with .472! In the playoffs, it jumped to .571! For the sake of context, his regular field goal percentage was .478. Want some more context? The fact that he led the league meant that he was better than every single household name when it came to shooting the three-ball. The best part? The man wasn't even in this year's three point contest. (He was probably disqualified to keep the other players from looking bad.) In all seriousness, here is an incredible player, getting totally ignored. He doesn't even get to start. However, it isn't all that hard to believe that a tall, awkward, token-white-guy, bench warmer gets ignored in New York City. There is plenty going on. Carmelo Anthony's ball kleptomania, Amare Stoudemire's stint in the Fire Extinguisher Boxing League, and the basketball enigma that is Jeremy Lin. Put Novak in a boring city with a lackluster team, and he would quickly become the man. Be sure to watch Novak light up three-city this year, you won't want to miss it.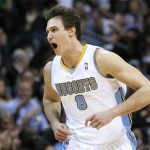 Danilo Gallinari, F, Denver Nuggets
When it comes to popularity, Danilo Gallinari has literally going for him. No notable endorsements, he's foreign, injury riddled, and not exactly a sound byte waiting to happen. Just the same, Gallo is all game and no hype. Gallinari is simply unlike any other player in the league. Why? It's hard to pin down. Maybe it is the fact that he grew up playing in Italy, so his style is just ever so slightly off from the rest of the league. Maybe it's his fairly average playing mixed in with his sporadic, Jordanesque outbursts. After winning the Italian League MVP in 2008, apparently Galo decided it was time to move to a bigger stage. From there, he has been looked at as a nobody.
Just the same, the Italian forward's case is not one of small fish, big pond. It seems to be more along the lines of invisible fish, big pond. NBA consumers want flashy. Galinari seems to have traded any flash he may have had for a little weirdness. As for this season, he is back and better than ever from his injury. I wouldn't expect to see the "quiet-14- points-per-game" Galinari. Brace yourself for the, "I'm-a-beast-don't-forget-me-or-I'll-drop-30-points-on-your-entire-team" Galinari. Also, expect him to take on a larger leadership role in the Nuggets this year. His combination with Andre Iguodala and Javale McGee has created a true Big 3 of Underratedness. A solid three point shooter as well as defender, Gainari has nowhere to go but up. Expect great and wonderful things from the forgotten forward of the Mile High City.