What"s that smell in the air?  You catch a whiff of it every so often in the summer, an injury, a trade.  Small details.  Now the smell has rounded the corner of September and hit you.  The smell of fried food, beer, and fresh leather.  The smell of the most popular sport in America, football.  With less than one week left until the Giants and Cowboys kickoff on a Wednesday season opener, it is time for some preseason predictions from 16 of the Bustasports.com writers.(Also be sure to check out Tebow vs Sanchez, best team debate, dark horses, and lots more great NFL content here.)
Most Valuable Player:
With a healthy offensive line and a strong receiving corps that added Brandon Lloyd this offseason, the majority of our writers predict Tom Brady to win the MVP award.
Second: Aaron Rodgers, Packers
Offensive Player of the Year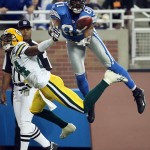 They call him Megatron for a reason.  The 6″ 5″ 236 lbs. Calvin Johnson is an early favorite for the OPOY after a tremendous 2011 season in which he threatened the single season reception TDs record early on.
Second: Aaron Rodgers, Packers
Defensive Player of the Year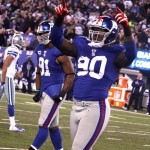 The 2011 season unveiled to us the beast that is Jason Pierre-Paul.  A DPOY would be a huge step for a young player that was still .
Second: Patrick Willis, 49ers
Offensive Rookie of the Year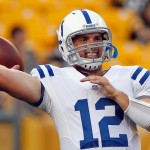 Andrew Luck has been called the best QB prospect since John Elway and takes the preseason ROY with a mere 4 votes more than Robert Griffin III. (For in-depth Luck vs. RGIII check out our debate on the subject.)
Second: Robert Griffin III, Redskins
Defensive Rookie of the Year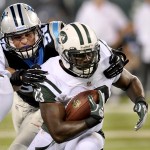 Our authors predict Luke Kuechly, the all time NCAA tackles leader, to take home the DROY award.  Some have questioned his strength and athleticism but this preseason he has shown top notch leadership and a nose for the ball.
Second: Chandler Jones, Patriots
Comeback Player of the year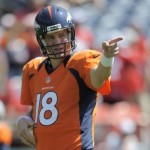 In an almost unanimous vote, Peyton Manning was predicted for CPOY.  With two young and talented receivers at his disposal, Manning will look to prove his doubters wrong.
Second: Darren McFadden, Raiders
AFC Champions
With the projected MVP guiding them the Patriots are the favorites to win the AFC.  Bill Belichick traded up twice (you read that right) for defensive players and the preseason expectation is that a retooled defense an explosive offense = an AFC championship.
Second: Tie-Texans and Ravens
NFC Champions
In a tight race, the Green Bay Packers beat the 49ers for the NFC champion prediction.  Fueled by an efficient offense and a defense ready to bounce back, Green Bay go into the season looking to avenge their second round loss to the Giants.
Second: 49ers