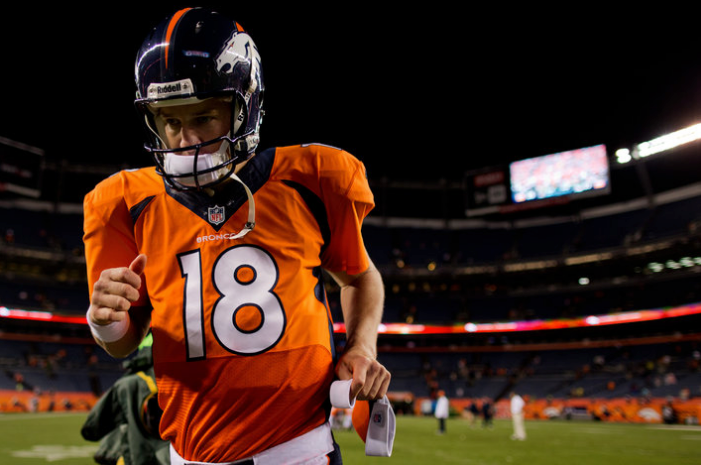 New York Jets (+11) at New England Patriots
Wide receiver Danny Amendola is out and rookies Kenbrell Thompkins and Aaron Dobson didn't impress in the their first game. With the running game still struggling, I can't see the Patriots winning by more than a touchdown.
Pick: Jets +11
San Diego Chargers (+7) at Philadelphia Eagles
Both these teams started off hot and came back to earth in the second half, but only the Eagles could muster enough points for a win. I think the Eagles offense is going to suffer an injury at some point this year, but this week look for them to punish the Chargers on the ground.
Pick: Eagles -7
Cleveland Browns (+7) at Baltimore Ravens
The Ravens are angry after Peyton Manning went crazy all over them and Josh Gordon is out until at least week 3. I have a little bit of belief in Brandon Weedon, but not against the team without his #1 receiver.
Pick: Ravens -7
Tennessee Titans (+9) at Houston Texans
Even though the Steelers are clearly banged up the Titans defense still held Big Ben and Pittsburgh to 195 total yards. Tennessee might not have a dominant defense this year but they should be able to hang on to be within 9 points.
Pick: Titans +9
Miami Dolphins (+3) at Indianapolis Colts
My upset pick of the week, I think the Dolphins win this game outright. The Dolphins defense is a bit underrated and with Vick Ballard now out for the year the Colts are going to struggle moving the ball. Expect a big game out of Mike Wallace who should be able to get open early and often. On the defensive side of the ball, Cameron Wake is still terrorizing opposing offensive lines. With the Colts forced to throw with Ballard out, Wake should have yet another big game.
Pick: Dolphins +3
Detroit Lions (-2.5) at Arizona Cardinals
The Lions legitimately beat down the Vikings last week, and  I could see more of the same happening this week. Carson Palmer is making Larry Fitzgerald's fantasy football stock rise, but as an overall team the Cardinals won't be able to stand up to the toughness of Detroit this week.
Pick: Lions -2.5
Carolina Panthers (-3) at Buffalo Bills
E.J. Manuel is the probable Offensive Rookie of the Year but the Panthers speed should be able to beat down the Bills secondary with their speed. With safety Jarius Byrd doubtful for the game Steve Smith and Greg Olsen should have no problem finding space down the field.
Pick: Panthers -3
St. Louis Rams (+5.5) at Atlanta Falcons
Is this the year Jared Cook finally breaks out? Through the first game it certainly seems so and with Tavon Austin, Chris Givens and Cook the Rams might finally have a formidable passing attack to pair with Sam Bradford. No one doubts that the Falcons will be there in the playoffs, but with a banged up line I like the Rams with the points.
Pick: Rams +5.5
Washington Redskins (+7.5) at Green Bay Packers
One of these first place teams from last year is going to be 0-2 this week as both suffered big losses last week. One key matchup in this game is Randall Cobb vs. safety Bacarri Rambo. Rambo has shown poor tackling during the preseason against speedy players and last week completely whiffed on a Mike Vick read option run. If the Redskins can't tackle, Cobb and Jermichael Finley could tack on a bunch of extra yards.
Pick: Packers -7.5
Dallas Cowboys (+3) at Kansas City Chiefs
Beating the Jaguars isn't exactly a special accomplishment these days but good teams take care of business when they have to and that's what the Chiefs did last week with a 28-2 win. The Cowboys should be a much harsher opponent but watch for the Chiefs to stay hot.
Pick: Chiefs -3
Minnesotta Vikings (+6.5) at Chicago Bears
Besides Adrian Peterson's 78 yard touchdown the Vikings couldn't do much last week against the Lions. Marc Trestman has the Bears fired up and Matt Forte should have a big game against the Vikings defense.
Pick: Bears -6.5
New Orleans Saints (-4) at Tampa Bay Bucs
As much as I love Josh Freeman the Buccaneers quarterback situation is tumbling downhill fast. After not being voted a captain for this season Freeman started off with a bad loss to the Jets. Next up is the Saints, with a better defense and always steady Drew Brees. Unless Doug Martin runs for over 200 yards I see a Saints cover.
Pick: Saints -4
Jacksonville Jaguars (+6) at Oakland Raiders
The Raiders shouldn't be favored by 6 points in any game that isn't against a High School football team. With the line set before the news that Blaine Gabbert would be out this week, Chad Henne should be able to at least come within six points of Oakland.
Pick: Jaguars +6
Denver Broncos (-4) at New York Giants
If Tony Romo can pick apart the Giants defense with Miles Austin just imagine what it's going to look like when Peyton Manning, Wes Welker and Demaryius Thomas take the field. Eli is still winless against his older brother, so bet on Petyon in Manning Bowl III.
Pick: Broncos -4
San Francisco 49ers +2.5 at Seattle Seahawks
The game of the week promises to see plenty of hard hits as the Seahawks take on their divisional rival. After shredding the Packers through the air last week I think the 49ers will go back to the ground with heavy doses of Colin Kaepernick and Frank Gore. Seattle doesn't lose at home and in what should be a close game I see the Seahawks winning by 3.
Pick: Seahawks -2.5
Pittsburgh Steelers +6.5 at Cincinnati Bengals
After having a down year last year the Steelers are even worse this year, having lost arguably the most important position in football with their center, Maurkice Pouncey is out for the year. With the Todd Haley offense sputtering and the Bengals defense surging expect a blowout in this one.
Pick: Bengals -6.5
All lines taken from sportsbook.com.
Photo credit: Justin Edmonds