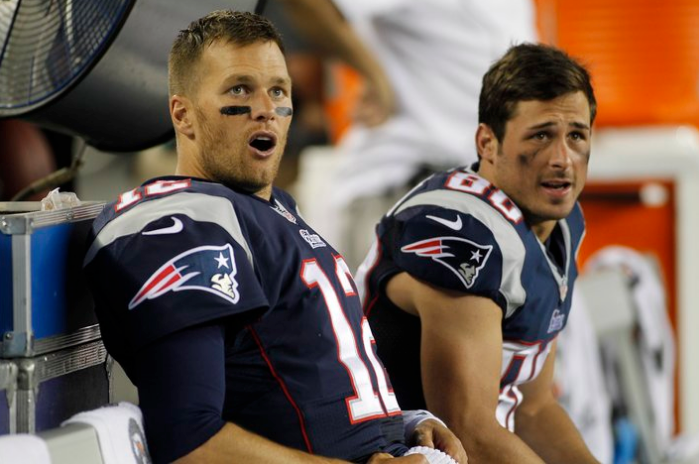 ** This article was written on Wednesday, September 3rd.
Baltimore Ravens at Denver Broncos
Spread: Denver (-7.5)
The Denver offence will be too much for Baltimore's Lewis-less defence. Expect a big night from Wes Welker, and a tough one for fantasy owners starting Baltimore's D on this Thursday night.
Pick: Broncos (-7.5)
New England Patriots at Buffalo Bills
Spread: New England (-10)
The Patriots may be without Gronk, Welker and Hernandez, but they still have Tom Brady. Expect the Pats offence to surprise some people, and prove too much for Buffalo's D. Also, Belichick should enjoy game-planning for EJ Manuel.
Pick: Patriots (-10)
Tennessee Titans at Pittsburgh Steelers
Spread: Pittsburgh (-7)
Big Ben is aging, Mike Wallace is in south beach, and Jake Locker is only improving. The Titans are going to surprise some people.
Pick: Titans (+7)
Atlanta Falcons at New Orleans Saints
Spread: Saints (-3)
Both these teams defences are iffy heading into the season, so expect a high scoring battle in this one. Matt Ryan, Roddy White and Julio Jones should provide enough firepower to outscore the Brees/Sproles combo.
Pick: Falcons (+3)
Tampa Bay Bucs at New York Jets
Spread: Tampa Bay (-3)
Geno Smith vs Darrelle Revis — this should be fun. The Bucks offence won't muster much offence against the Jets D, so this game comes down to whether Geno can put some points on the board. This'll be close, but the Jets will win a low scoring affair.
Pick: Jets (+3)
Kansas City Chiefs at Jacksonville Jaguars
Spread: Kansas City (-3.5)
Alex Smith has a chip on his shoulder, and should work together well with Andy Reid in running an effective offence. Expect the Chiefs to win this one in a blowout.
Seattle Seahawks at Carolina Panthers
Spread: Seattle (-3.5)
Despite increased scouting on Wilson's game, and the all-hyped "sophomore slump", Seattle will still win this game with ease. Why? Because Wilson doesn't need to be great, in order for his team to win. Lynch will take pressure off him on the offensive side, and the feisty Seattle D should take care of Cam and his crew.
Pick: Seahawks (-3.5)
Cincinnati Bengals at Chicago Bears
Spread: Chicago (-3)
Cincinatti is certainly a dark horse this year — but their week 1 matchup made it extremely difficult to get off to a good start this season. Jay Cutler has got weapons on all sides with Brandon Marshall, Alshon Jeffery and Matellus Bennet. The Bears offence will be too much for Cincinnati, and the Bears will win this game by 10+.
Miami Dolphins at Cleveland Browns
Spread: Pick 'em
The combo of Tannehil and Mike Wallace will be deadly for the Dolphins, as they take down Weeden's Brown. Watch out for new Dolphins RB Lamar Miller to have a huge impact in this game.
Pick: Dolphins
Minnesota Vikings at Detroit Lions
Spread: Detroit (-5)
Last year the Lions desperately needed a running game to keep opposing defences on their toes, and get Calvin Johnson open downfield. Detroit, meet Reggie Bush. Bush and the Lions are a perfect fit, and should come together to form an incredible Detroit offence, that will be too much for the Vikings on Sunday.
Pick: Vikings (-7.5)
Oakland Raiders at Indianapolis Colts
Spread: Indianapolis (-10)
As a Buckeyes fan, I love myself some Terrelle Pryor. He'll prove that his preseason success was no fluke, and that the Raiders aren't the pushover many have made them out to be.
Pick: Raiders (+10)
Green Bay Packers at San Francisco 49ers
Spread: San Francisco (-4.5)
You can bet that the Packers remember being ousted from the postseason by the 49ers in Candlestick Park just last season. Rodgers and co. have a chip on their shoulder, and will be out to get Kaepernick all game. They may not win the game, but at least they'll keep it close.
Pick: Packers (+4.5)
Arizona Cardinals at St. Louis Rams
Spread: St. Louis (-4.5)
Carson Palmer is an unknown at this point, and the Arizona offensive line is incredibly weak. Expect the Rams to start of the season with a W.
Pick: Rams (-4.5)
New York Giants at Dallas Cowboys
Spread: Dallas (-3)
The shaky Giants secondary of last season looks eerily similar in 2013, and will struggle against Dallas' speedy wide receivers. This is the perfect week 1 matchup for Tony Romo and co.
Pick: Cowboys (-7.5)
Philadelphia Eagles at Washington Redskins
Spread: Washington (-3.5)
Griffin vs Vick. Old vs New. A great way to start the year's first Monday Night Football. Expect Chip Kelly/Vick to work together to tear apart the Redskins defence.
Pick: Eagles (-3.5)
Houston Texans at San Diego Chargers
Spread: Houston (-3.5)
The Texans D have been preparing all Summer, and are ready to annihilate Phil Rivers' crew. Expect a blowout in this one.
Pick: Texans (-3.5)
Photo credit: Stew Milne-USA TODAY Sports