5.Aaron Murray
As a player who always has had a knack for under performing, he is leading a team who is currently undefeated and has put up good numbers while doing it.  As long as his team has success, he will be looked at as the figurehead and the focal point of the praise.  He passed for 250 and 3TDs (1 rushing) against Vanderbilt, and has to be looking to keep improving if he is looking to being a finalist for the Heisman.
4.Colin Klein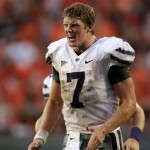 Colin Klein is in a position that many not have guessed.  He has just upset Oklahoma in a game that few thought he would win, and now the nation has its eyes open to the fact that he is the Kansas State football team.  His running and passing ability, as well as his personality on the field make some think back to the days of Tim Tebow.  If he continues to produce, and enough people start to make those comparisons, he could very well end up holding the Heisman just like the former Florida quarterback did.
3.De'Anthony Thomas
Many may have felt that he has fallen off of the Heisman hype, but the case is that he is held to a higher standard.  When Thomas touches the ball, no matter what the circumstances, people expect him to score.  If he does not score, then it is considered a failure.  Fact is he is a big play waiting to happen, and his ability to scare any defense has him still on this list.  He is on pace for almost 1,900 all-purpose yards and 23 touchdowns.  Not bad for a player who doesn't even start at his position most of the time.
2.E.J. Manuel
Manuel has been through a lot at Florida State, with most of which being the result of unfulfilled expectations.  With the showing Manuel put on against #10 Clemson, he shot right up the charts and showed the world that he, as well as the Seminoles, are for real.  Manuel passed for 380 yards and 2 TDs, as well as rushing for 102 yards and another TD.  If Florida State keeps up their winning ways, E.J. Manuel could add a Heisman trophy to a possible ACC, or even BCS Championship.
1. Geno Smith
Geno Smith once again proved to the world why he is near the top of the Heisman race.  He put forth another standout performance going 30-43 and 338 yards and 3 TDs.  Smith is on pace to have total season numbers of almost 4,300 yards and almost 50 TDs.  That is outstanding for a NFL QB, let alone a college signal caller.  If Smith continues at this pace, who knows if there is anybody in the nation who can keep up with him.
Follow @Bustasports on twitter for more daily sports updates.