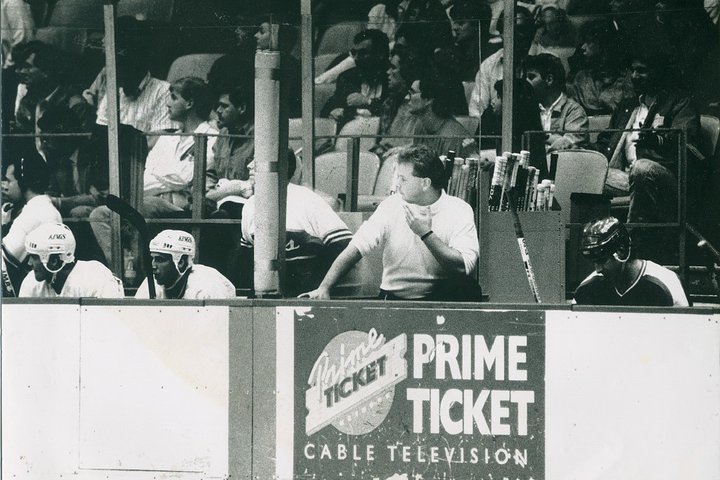 The story of how I got to be an employee at the Fabulous Forum is not made up, although hard to believe.
There was this one seat, which belonged to no one, and went for about $100.00 at the box office. Who's going to come to a game by themselves and then pay that kind of money? So one night, one of the trainers turns around, asks me if I'm healthy, and then tells me to report to the Minnesota North Stars locker room, and he'll explain later.
Peter Demers-Hall Of Fame Trainer
It turned out that the guy who was working there in the locker room, had a heart problem, and the L.A. Kings insurance could not cover him. This guy was so angry, that before he left the locker room, he supposedly, and I re- emphasize supposedly, put something in their water, which made about six of the guys get Montezuma's revenge, and they were sick the whole 3rd period.
I was blamed, and suddenly cornered in the locker room by let's just say gentlemen who probably had close to 10,000 penalty minutes between them, and they weren't happy. I was able to calm them down, and explain that I hadn't even been in the room until after the game had finished.
I was blessed and honored to work under some of the greatest trainers in the business, but access to Peter Demers on a daily basis was an honor and a privilege. He was hard on his staff, and sometimes I couldn't understand it, but looking back have the utmost respect for how he maintained the room in preparing the team for action.
Craig "Mac-T" MacTavish, Kelly Buchburger, and Craig Simpson
I remember that they always grabbed their cup of coffee, and then would venture out to the empty stadium and sit on the bench, just focusing on the game at hand.
Would it have been smart for someone on that team or the coaching staff to come out and bother them? Or rather to allow them to do what they liked to do, and respect the fact that this was their routine, which put them in the best frame of mind to perform, allowing them on a larger scale to add their part in winning numerous championships.
I learned so much from them in terms of routine, and rituals, and am grateful to have worked with them.
Mike Hartman, Mick Vukota, Jeff Chychrun, Ronnie Stern, Bob Probert, Marty McSorley
I tended to gravitate towards the "role" players let's call them, and above are several of those players that I have been blessed to have known and had dealings with away from the ice. These guys put it on the line every single night, and the youth of today should read this as a lesson in knowing your role, and the role of your teammates. It's a collection of talents and intangibles that leads to Championship efforts.
Among these pugilists, there exists a code of it's own, where one guy will not show up another. If one guy can't drop the gloves due to injury or whatever, the opponent won't make him look bad by challenging him out of respect for the role they carry on their team.
Codes are what make sports wonderful. The fact that a guy won't bunt to break up a no-hitter in baseball, or that a defender in football won't hit a punt returner who has waved for the fair catch is great to watch, but day after day I was awed to see the honor amongst NHL players in knowing that they'd have to be accountable for their actions if lines were crossed.
Joey Mullen and Rob Ramage
The next section I hope will lend credence to the idea of mentorship, and it's importance. There were several teams that would come into the Forum 6 to 8 times a year as they were in our division, so this next story involves two players from the Calgary Flames organization and their importance on my life as mentors.
Joey Mullen and Rob Ramage are two of the finest men I ever had the chance to meet during my Hockey experience. Let me set the scenario.
A team comes into the airport, and maybe a few of the boys who you know on that team want to go out and grab some dinner so I go by the hotel, pick them up, hear a few good stories, eat a steak, have a couple beers, no worries, except it seemed that this process tended to repeat itself.
These two fine gentleman decided to take it upon themselves about mid-year to mention that I looked like I had gained about 50 lbs since they first saw me in pre-season, and that I looked quite un-healthy. I wasn't an alcoholic, it was just that I had gotten into a routine of eating and drinking at odd hours, and my weight built up over time.
The part that sticks with me till this day is that these million dollar athletes actually cared about a locker room guy. I will never forget Ramage telling me that I was part of the Hockey Family, and that they take care of their own.
Mullen was a guy I always rooted for anyway as he was a New York guy from Hells Kitchen, and my mother always spoke so highly of her own New York roots, that I just followed his career proudly.
I wish I could have attended when he was inducted into the Hockey Hall of Fame. Joey Mullen was the first person outside of my family that encouraged me to follow my own dreams in pursuing a professional Soccer coaching career, and asked about it on each and every visit.
I hope to be able to thank both of these guys for all of their guidance and advice.
The message here is to always try and learn from the people around you in whatever business or sport they are from, and seek out their mentorship. You never know who will change your life.
A few years back, Mr. Ramage was involved in a car accident where alcohol was involved and the passenger who was also an ex-NHL player was killed. He has paid dearly for what happened, and I I can never forget what this man did for me in caring so much for a person's health, that he went out of his way to show what an honorable person he was. I submitted a character reference letter in his honor that was actually published in The Hockey News a few years back.
John Kordic
This section would not be complete without a funny story, and I think I'll stick to the theme of the tough guys. There are guys who play a regular shift, and maintain their policing role, and others who might play 5 minutes or so all night.
On this particular night it was a player of the latter, John Kordic, who decided that he'd had enough. 1 shift in the 1st period, and maybe 2 shifts in the 2nd, so as the team goes on a power play in the 3rd, he decides to jump over the boards and join in, when suddenly the coach yells "the player's name" and asked him "where the heck was he going"
Immediately the John responded, "oops, sorry coach, thought it was my shift" So now the guys on the bench are laughing, the player returned over the boards, and the coach is all up in his face. I'm standing in the corner of the bench no more than 2 feet from these grown men yelling at each other, when the player turns around and grabs a popcorn from a vendor in the row behind the bench, and starts eating by the handful. I'm trying so hard not to laugh, and I can see the coach getting more outraged by the moment.
The coach then proceeded to tell him he was benched for not only that game, but might suspend him too. All had settled down for about 10 minutes till the player stood up and starting taking orders for hot dogs from the other players. He's screaming at the top of his lungs "who wants mustard on theirs, think I'll just have one with ketchup and onions" There was no teaching point to that story, but I just had to share it.
John Kordic tragically passed away at a young age from drug usage, but I can tell you first hand that he was a fantastic person, who always took an interest in my life each and every time he came to town. We would go and grab a meal together, and he always talked about how he wished that he was a more skillful player, and could contribute more than just with his fists.
Craig "Chief" Berube 
This is a story about the class and friendship that was bestowed upon me by Craig Berube. Chief as he's known came through, and showed his true colors one night in a moment that I have often tried to forget but never will be able to.
If I have ever rooted for a person to become a member of the Hockey Hall of Fame, this is the person who I would most like to see bestowed the honor. He has been a Player, Asst. Coach, and now a Head Coach, but on a night in late November of 1991, Chief saw me wandering around the hallway of the Airport Hilton, where his Toronto Maple Leafs were staying.
Just one hour before, Myself, another friend, and three of the Maple Leafs had been held up at gunpoint, just across the street trying to get some food before the players turned in for the night. We escaped unharmed, only having lost some money, and an important piece of jewelry belonging to one of the players, but I was visibly shaken.
I had enjoyed my time working for the Los Angeles Kings, and been out with players from all of the teams on numerous occasions. This was the first and only time this was to ever happen. Chief, who was not one of the three players involved, seeing how affected I was, stayed up talking to me for over an hour and a half, doing his best to calm me down, and make me realize the luck we all actually had, that these guys didn't panic and use the gun.
I am forever grateful and hope that someday he finds a place in the Hall of Fame, because this is a man that the NHL should be proud to have had in the league.