Mark Medina, reporter for The Los Angeles Daily News, noted that Los Angeles Lakers center Dwight Howard and Atlanta Hawks forward Josh Smith have . Howard and Smith played on the same AAU team as teenagers and this trade would be ideal for both teams to make.
Smith, a 27-year-old athletic forward, is a free agent at the end of the season seeking a max contract. That team is not his current one though—the Hawks have stated that they will not sign Smith to a max deal. After pulling the plug on a deal to Milwaukee in the final moments before the trade deadline, Atlanta needs to find a way to get rid of Smith with getting something in return.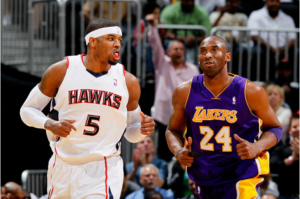 The Lakers could facilitate a deal that could reap benefits for both sides. This trade would be a sign-and-trade deal centered around Smith and Spanish big man Pau Gasol. Gasol, who has had a rough campaign in LA this season, faced multiple injuries through the course of this year and was also relegated to the bench in the midst of their struggles.
Gasol is in need of a change of scenery and Atlanta could be the spot for him. Playing along side Al Horford, a more physical big man than Gasol, could give the Hawks a strong frontcourt that will pair well with Jeff Teague at the point. With Horford and Gasol, both capable of playing power forward and center, in the fold, Atlanta could continue to be a playoff squad while rebuilding for the future. Another option after this trade is that Gasol has an expiring contract after next season. If Gasol doesn't mesh in Atlanta, they could let him walk, but if he does, they can resign the then 33-year-old Spaniard.
For the Lakers, this season's experiment was a failure regardless if they make the playoffs. Gasol was not capable of playing along side Howard so he was placed on the bench where he was more effective, but misused. While Gasol still has value, the Lakers should deal him, and get Smith in return.
An issue the Lakers had this year was building chemistry, but the fact that Howard and Smith played AAU basketball together as teens, all negative thoughts about this future Lakers squad will be debunked. With constant reports that Kobe Bryant and Dwight Howard disagree, Smith will be able to mediate these issues and please the melodrama that D12 produces.
Smith is a great athlete, and still young, only 27, about to hit his prime. With him in the lineup, he could play either small forward or power forward next to Howard and give the Lakers the youth they lacked all season long. Los Angeles has the money to sign Smith to the max contract he seeks if they dump Gasol's salary, and will instantly become a favorite out West to go to the Finals.
If general manager Mitch Kupchak is truly committed to building the Lakers around Dwight Howard, then he will invest in Josh Smith over the summer. This move will most certainly please Howard and affirm his status as a Los Angeles Laker and a future NBA champion.