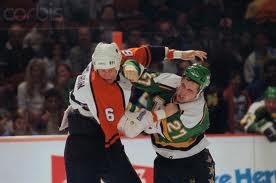 Jeff started to play around age 6 in the in-house league, and later moved on to the travel program. He told me that back in his time, you required to play with your local team, whereas in many minor hockey areas today, one can play for whomever you want with little loyalty to the local programs.
He liked the old way, as there was pride in the community, and you built up lifelong friendships with players from your home city. Jeff grew up with Jeff Brown, Jamie Baker, Steve Yzerman, Dave Lowry, and Darren Pang all playing for the Nepean Raiders minor hockey teams.
In terms of the draft in the Ontario Hockey League, it took place at the North York Arena in Toronto, and Kingston ended up selecting him, and it turned out to be very beneficial as he got lots of minutes there.
Kingston was about an hour and forty-five minutes from Ottawa, so my parents could come up and see the Friday, Sunday or Tuesday night games, and drive back that night for work in the following morning.
After being drafted by Philadelphia, he told me that going to your first training camp can be a real eye opener. Working with veterans like Mark Howe, Brad McCrimmon (who passed away tragically while coaching a team in Russia in 2011), Doug Crossman, Brad Marsh, and Ed Hospodar was a great education daily.
They were great guys to learn from, and all seemed to take interest in helping younger players. This was in 1984 following my first year in Kingston. The second season in Kingston was a struggle, but fortunately my third year things really clicked for me personally and the club. I think it was a combination of earning a little space on the ice playing the tougher role, and also that my skill set was further advanced with some hard work put in. I learned a valuable lesson with all that had transpired since I entered in the Ontario Hockey league.
Drafted into the OHL by Kingston
Had a good season
Got Drafted in the 2nd Round by the Philadelphia Flyers
Went to Pre-Season camp with the Flyers
Had a decent Camp
Huge Mistake as I sat back on my laurels
Struggled in year 2 at Kingston
Found out the hard way that you need to increase your workload.
Worked my butt off before Season 3 in Kingston
In my Pre-Season camps with Philadelphia, I was able to work with the strength coach, Pat Croce whose name you might recognize from his days as President with the 76ers Basketball Team.
The 1987-1988 Season with the Minor League affiliate of the Flyers in Hershey culminated with a Championship where we went undefeated in the playoffs, with 12 wins and no losses.
We were a very unified group, and credit goes to Flyers G.M. Bob Clarke, as he really believed in having a veteran presence in the team to guide the younger guys in the manner of becoming professional players, and learning to play an 80 game season. There were some other excellent young players with the Bears like Gord Murphy, Nick Kypreos, John Stevens and Wendell Young.  We learned from great veteran players like Don Nachbaur, Mitch Lamoureux, and Kevin McCarthy. 
The first NHL game in 1986-1987,  is kind of a funny story, although looking back, not so much at the time. I had not been playing real well down in Hershey at the time, and I think we had lost the night before pretty bad, so Coach John Paddock had a work day and a " No-Puck" practice that morning, and skated our tails off.
We get off the ice around 11:30, and John calls me into the office to inform me, that I'd been called up to Philadelphia to play that night against the Los Angeles Kings.
I go home and pack some stuff, and then took off on the 2 hour drive to Philly, got to the hotel to have a little rest, and I can remember real well, that between periods, Pat Croce came in and said that if I played well, they might keep me up for awhile longer. I told him that I was so tired, and that we had a No-Puck session in the morning, and he snaps back quickly and says, "Fake It"!!!  That's what I remember about my first game, that my legs weren't very good, and Pat was rooting me on.
Advice Jeff would like to pass on to a younger generation of athletes is.
 Have fun
Enjoy what you are doing
The one thing you can control is how hard you work
Give your best in school because it develops work ethic and skills needed away from the rink. And diligently work on improving your little skills that improve you as an athlete and the fundamentals of your sport.
Another bit of advice that makes so much sense was from Tim Kerr, in that "experience" simply slows the game down for you on the ice.
Jeff told me about the emotions that go into lifting and skating around with the Cups he won while a member of the Pittsburgh Penguins, and that Calder Cup in Hershey. The first emotions are one of a sharing feeling of what you have accomplished through the hard work with your teammates.
It takes time to fully go through all of the emotions and feelings. You go through the "A-Ha" moments, the emotional rush, and then the ponder moments of all the family, teammates and friends that have been with you throughout the journey in your life.
Photo Credit: CorbisImages.com