By Lucas Sheiner and Ben Pickman
For so many young basketball players, reaching in the NBA is the ultimate dream. For former LA Laker Jordan Farmar , it was no different.
Farmar showed signs of greatness from a young age.  As a teen he was named the Los Angeles Times  High School Player of the Year in 2003-04, and as a freshman at UCLA, was named the National Freshman of the Year. After leaving school following his sophomore season, Farmar continued to live his dream, getting drafted 26th overall in the NBA draft by none other than his hometown Los Angeles Lakers. In his first four seasons in the league, Farmar was the Lakers backup point guard. He averaged seven points and two assists in 18 minutes of action during his tenure in Purple and Gold, and played a grand total of 69 playoff games, winning two NBA championships. During the summer of 2010, he hit free agency for the first time in his career, an exciting experience for any young player. Looking for a bigger role, he signed with the New Jersey Nets, where he'd averaged 10 points and 3.7 assists per game in his two years in Jersey. During following year's NBA lockout he decided to head over to Israel to play for Maccabia, rather than "just sitting around and waiting to see what happens [in the lockout]", as he put it. After a year in Israel, he decided to continue playing in Europe, and signed a three year contract with Istanbul's Anadolu Efes. As Jordan explains in the interview, his best friend Josh Shipp, a member of Anadolu Efes, played a big role in bringing him to Turkey. Jordan led Anadolu Efes to the round of eight this season, averaging 13.9 points on 53% shooting. A loss to Olympiacos in the deciding game of the round of eight sent Anadolu Efes home, and ended Farmar's second year in the Euroleague. As he tells BustaSports in our interview, Farmar plans to test NBA free agency this summer, saying "I feel that it's time for me to go back and enjoy free agency."
Jordan generously agreed to take some time to speak with us and answer our basketball-related questions. The interview is below.
Leaving the NBA During the Lockout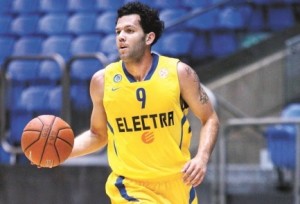 BustaSports: Why did you decide to leave the NBA during the lockout?
Jordan Farmar: I had gone to a few games of Maccabia because my step father, he's from Israel. And I knew about the Euroleague, specifically about Maccabi, the team I went specifically to play for in Israel. I felt it would be a better opportunity for me to continue playing and enjoy basketball and make some money during the lockout instead of just sitting around and waiting to see what happens. And then, from that experience, I absolutely loved it. I loved Israel, I loved the Euroleague from the perspective that I was in last year, and it opened the door for the opportunity I'm in now, where it opened my mind to playing in Europe, where before that I never would have imagined in a million years me leaving the NBA to play for a European team.
Hedo Turkoglu and Mehmet Okur both played on Anadolu Efes in the past, did they have any input in your decision to sign with the team?
I didn't talk to Hedo, but I played with Mehmet in Jersey, so I was familiar with Turkey in general. Like I said Josh Shipp is my best friend, and he'd been playing in Turkey three years prior to my coming here. I played with Deron Williams in Jersey, who came and played in Turkey during the lockout. So I had a bunch of people who actually had firsthand experience with life and basketball out here and they had great reviews and great things to say, which only helped me make my decision to go and try it out. It's tough to leave the NBA, especially in the middle of a good proud career, but I got a good opportunity, and I thought I could grow as a person and a player, and I had a few reference points to kinda back that.
Experience With Anadolu Efes in Turkey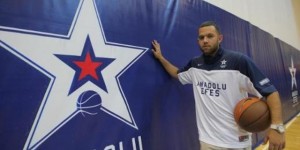 Your season ended on a tough note Friday, losing in the deciding game of the round of eight 92-82 to defending champion Olympiacos. What was something your team could have done better to get the win, and make it into the final four?
I think it was just my injury that made us lose the game. We had a 15 point lead that we blew away, and had I been able to stay healthy throughout the course of the game than we'd be heading to London right now.
When you play against other former NBA players, most recently Acie Law, is there an immediate rivalry between you guys?
I don't think it's a rivalry, I think it's more of a familiar face, you know, when you see an American, someone you grew up playing against, they're going through the same struggle you're going through. They're in a foreign country as well, and some people aren't getting paid on time, or are away from their family for a  long time, so it's kind of a time to catch up, and see how everybody's doing and realize that we're all going through the same struggle. We're trying to feed our families, and play the game we grew up loving. So it's more of a familiar feeling, more so than an enemy type feeling. And then, the foreigners out here are asked to carry a lot of weight, so it's fun to be against those guys that you've known for a while.
How has it been to play with former NBA teammates Sasha Vujacic and Josh Shipp?
Josh is my best friend in the world, he was the best man at my wedding, so to be able to live close to him, and play on the same team as him, again, has been the biggest blessing for me in my adjustment out here. Sasha I played with for seven years throughout my professional career, so it's good to have him around as well. Having Sasha and Shippy around gives us a familiar reference point to where we come from, and what it takes to win, stuff like that. All those things contribute to the adjustment process.
Differences between Euroleague and NBA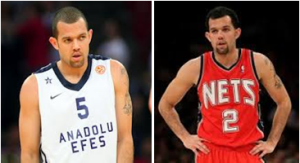 Many Americans don't know about Euroleague basketball. Can you explain some major differences in terms of playing style, between the NBA and Euroleague? 
I'd say the major difference is that in the NBA teams are built around a star player, and guys are kind of positioned around him, they complement whatever his attributes are. So if it's someone good down low, they put shooters around him; if it's a point guard they try to put bigs, things like that. Out here it's a much more team oriented game.
What are some major differences between living in America and Istanbul?
Life in general is very different. The culture is different out here, it's a Muslim country, so their way of living and way of thinking is completely different than ours, in that every morning you're waking up at five in the morning to the call for prayer. That's their first time praying, and they'll pray five times a day. And basketball is not their first sport, soccer is. So, there are a lot of things culturally and athletically that are much different.
The language barrier must be another big one. Do you speak Turkish?
[laughs] No, I don't.
Has that been an issue, being able to communicate with players, coaches?
That has definitely been an issue. We have people on the team that speak English, but they do coach in Turkish.
Just in general, the language thing is tough. You know, living in southern California, Spanish is a foreign language, but there's a lot of familiar phrases and words that you can kind of understand. Out here, the language is completely different. The alphabet is similar, but the way there dialect is is completely different. So any words doesn't sound familiar, you have to completely learn it from scratch. I think that's really the hardest thing. And then for me, growing up and being a basketball junkie, just the fact that the country as a whole is not huge on basketball, was a tough adjustment.
Earlier this year, Ben Pickman attended your game against Unicaja Malagu, and his biggest takeaway from the experience was the incredible atmosphere in the stadium.  Is that something you'd consider a major difference between Euroleague and the NBA?
Yes, for one there's less games, so every game carries much more weight. And two, it has that soccer mentality, that soccer feel, where they support their team, and you'll hear them cheering the whole time. Out here the home court advantage really is a home court advantage; it affects the referees and it affects the players. It's fun to be a part of that hostile environment.
Is the incredible spirit of Euroleauge fans something you think the NBA should develop? How could they do so?
I think it's very different, from the overall cultural standpoint. Out here they grow up – they start in these clubs, where they have all these courts, basically soccer, basketball, volleyball, you name it, and they start from children's age. No matter what sport the kid is playing, they live and die for it. So, it's kind of a lifelong development for the love of their team. Which translates to the professional level, where they just pick teams to support, and live and die by how their team does. That's not very common in the states, and it's very hard to get to, but it's just having those cultural differences.
Potential Return to the NBA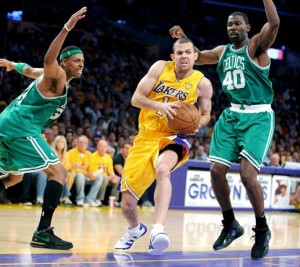 Have you considered a return to the NBA? You're under contract for the next three years, but a return after then would be very plausible. 
I think I'll be back much sooner than the end of the contract. I have the out every summer after this season is over, I have the ability to go back to the NBA. So, I feel I gave Europe a try, and that I have plenty years ahead of me in the NBA, but I still have the option to return here and play in Turkey again, if the right [NBA] deal and situation doesn't present itself. But I feel that it's time for me to go back and enjoy free agency.
Your hometown Lakers are in dire need of a point guard, they could certainly use you.
Yeah, I mean, it'll come down to situation. They have a lot of salary committed to a lot of different places. It'll depend on what happens with Dwight Howard, and Kobe Bryant, and Pau Gasol, and if they're in the position to be able to spend some money on free agents. But, I'm open to every opportunity. I've kinda tried to stay away from planning where I'm gonna end up, because I never thought I'd end up in Turkey, it just kinda worked out that way. So, I just try to roll with it, put myself in the best situation and make the decision that's in front of me for the right reasons. If I do that, I think I'll be okay.
You're in the running for Euroleague MVP and have had an incredible season, do you think that you're success in the Euroleague should earn you a starting spot in the NBA?
I'm not sure. It's not for me to call that, I just want to contribute and help a team and organization be successful. I would love the opportunity to start, and lead a team, but I realize that there are many other ways to help, and to be a contributing factor on a very good team, which I've done before in the past. So, I think part of the reason for me leaving the Lakers was to keep that out and try to give myself that opportunity, and I think that I went out, and I've improved as a basketball player, and if given the opportunity I'm more than ready and willing to take on that role. [A starting role] is not something I'm truly looking for as a live or die situation any more, I'm really just trying to be a beneficial factor on a team, and be ready to contribute beyond that, and continue to have a positive and strong career.
Changes in Playing Style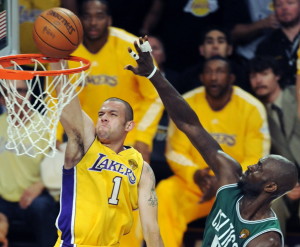 In your time in the NBA, you were known as a point guard who could use his athleticism to effectively run the fast break, and knock down open shots. How has your game changed since leaving the NBA?
I think my game has definitely grown since leaving the NBA. I've had to carry much more of a load over here, people will look to me to manufacture things when plays break down, it's not like "give the ball to Kobe or Deron Williams" in my situation professionally  but out here it's "give me the ball", and I have to make something out of nothing and make a play for myself or my teammates. Which is, you know, help me be really good as a player, making tough shots, making plays down the stretch, and just being held more responsible for wins and losses.
Keeping in Touch With the NBA
Have you been following the NBA?
Yeah, I watch the NBA every night. I stay up very late, and watch everybody to see how they're doing.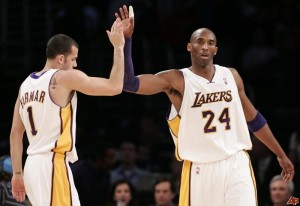 Have you stayed in touch with guys in the NBA?
Yeah, I mean, the NBA is a big brotherhood, so you come up with a lot of friendships that I would say probably last a lifetime. There's only 400 or so players in the
NBA, and you're all going through the same thing that took so long to get to, and once you make it it's kind of you're in that fraternity. And playing with guys, and going through struggles, losing championships, winning championships, you make a lot of friendships  and you definitely stay close, all the time.
Everyone tries to analyze the Lakers, but you would have the best insight, because you played with Kobe, Pau and Metta World Peace. What do you think went wrong with the Lakers this year?
I think they never gelled well, as a team. I don't think they're extremely deep, and to be a good team in the NBA, you must have a good bench. When we were successful, when I was there, our bench was one of the strongest benches in the NBA. When our starters were hurt or went out of the game, we didn't leave much, we brought something else to the table, which is one place where they struggled. And then they had a tonne of injuries. I mean, if you have somebody hurt, or multiple guys hurt all the time, it's tough to win games. No matter what color your jersey is or what the prestige of your organization is.
NBA's Popularity in Europe
How big is the NBA in Turkey? Are you one of its rare followers, or is the NBA big over there?
I would say, not so big. The people who pay attention to basketball, pay attention to the NBA, but the people that pay attention to basketball, are not that many. There's 18 million people in Turkey, and the first sport is soccer, so in terms of how many people there are here, and how people many pay attention to basketball, it's very small. But in Europe it's big. There are countries that are big on basketball like Greece, Italy, Spain, Russia and Israel. In those countries world basketball is really big, and people do pay a lot of attention to what's going on.
For your younger teammates, or other young players in the league, would their goal generally be to play in the NBA, or to be a top player in the Euroleague?
Most people want to go to the NBA at some point in their career. Whether it's have a solid Euroleague career and just see what it's like at the end, someone like Pablo Prigioni, who plays for the Knicks now, or a guy who's been drafted to play over here for a couple years, develop, and then when the opportunity's right, go out and try to see how it works out for them in the NBA. But most people around the world's goal is to play at the absolute highest level, which is the NBA.