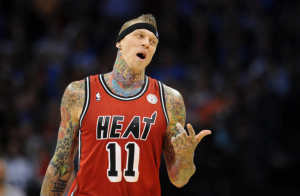 The Miami Heat are looking to become back to back to back NBA champions, behind the tremendous all-around play of the MVP LeBron James and preeminent all-stars Dwyane Wade and Chris Bosh.  The Heat made a few moves this off season, their major acquisition was the signing of former number one overall pick in the 2007 NBA Draft, Greg Oden.  Also the Heat resigned big shot maker Ray Allen, and high energy defensive player Chris "Birdman" Anderson.
Miami is quickly growing as one of the best basketball cities in the NBA, and that helps the Heat accumulate more free agents, for a lower price; and stockpile as much talent as they can to try and win three straight titles.  Another flaw in the Heat's roster is that they do not get consistent point guard play from Mario Chalmers or Norris Cole; one of those two players really has to start to step up with consistent play.  If neither Mario Chalmers, nor Norris Cole step up to be that starting point guard, I think that the Heat should go out and try to acquire either veteran proven leader Chauncey Billups or Orlando Magic point guard Jameer Nelson.
If the Heat are to win a third consecutive title they need Greg Oden Our goal is the school-delays.com patient outcome and restoring the patient's quality of life. or Chris Anderson to really step up as a post and defensive presence.  I feel that signing Greg Oden was a fantastic move by Pat Riley.  Oden is a low risk high reward type of player.  Oden when healthy has the potential to be a dominant force in this league.  He was the number one pick in the draft for a reason; he has the talent to become a great defensive center.  The key for Oden this season is just staying healthy, the awards, accolades, and titles will follow.
Miami has all of the talent to win another title the question are can they stay healthy?  And will they have that same drive to win like they did last year?  Those two things are going to determine whether this LeBron Heat team will go down as one of the great teams with Jordan's Bulls, Magic's Lakers, the Kobe and Shaq Lakers, and Russell's Celtics.  The Heat are the (2-1) preseason favorite to win their third consecutive NBA championship, and my belief is that they will win their third consecutive title and that LeBron James will win another MVP.
Photo credit: Mark D. Smith-USA TODAY Sports