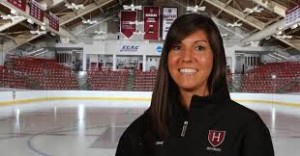 Harvard University Women's Assistant Hockey Coach, Hayley Moore grew up in Wakefield Mass, as the youngest of three children, with an older brother, and sister.
Early sports experiences were paved by street hockey games, and often times thrown in goal, as she was a girl, and told she didn't belong by the local boys. Her brother however, was quite supportive throughout the process.
Hayley doesn't really go by the opinions of what others think she should, and should not do.
An advocate of authority, and even more of an advocate, that women have a significant place in this world, and the world of sports. I left the interview wishing I had a daughter that could go and play for her at Harvard.
After youth Hockey she went on to play at Cushing Academy, with the likes of National Team stalwarts Erika Lawler, and Meghan Duggan, under the tutelage of Coach Paul Kennedy.
She wanted to stress that in her experience at Cushing, how thankful she was to have been at a place where she was surrounded by like-minded individuals with similar goals, and having people around her with that kind of drive and passion, only fueled her more.
MAINTAINING HONOR ROLL AS A STUDENT-ATHLETE
Time Management
Respecting the structure that is laid out for you
Having different times of the day set out for studying helped her to create good study habits in the classroom, and hockey as well.
Surround yourself with people who are motivated to grow, and find good teachers as mentors who really support and push you to excel.
THE RECRUITING PROCESS
Gather as much information as possible
Keep an open mind about all of the options
Don't add excessive pressure to yourself, as it can be a scary and intimidating process
The more feedback and background information on the schools you are considering, will allow you to feel comfortable in finding a school to attend.
Hayley had a High School career at Cushing Academy that included Four-Year letters in Hockey and Softball, with a Three-Year letter in Field Hockey.
Brown University is where she chose to attend college, and play college hockey. Her first hockey goal felt like an eternity in arriving, as it some time break the ice, so to speak, and it turned out to come on a night against Mayor's Cup rival Providence College.
For her career she mentioned one weekend in particular, as one of her most memorable. It was in her sophomore year, when they played in the Finals of the ECAC Conference against their biggest rival Harvard University.
Brown was winning 3 to 0 in the first period, and ended pulsing 4-3, but this a weekend to not soon forget, as they had beaten previous #1 ranked St. Lawrence to arrive at the final.
When speaking about the role of a captain, which Hayley had the honor bestowed upon her on several occasions, she mentioned that the qualities that one looks for are for someone who Walks the Walk, and leads by example, and a player who is both approachable, and respected by her teammates and coaches.
As a coach, and as a person who has been where the incoming freshman athletes are, she mentioned that it's important to ask a lot of questions, not be afraid of the new environment, and to take advantage of all the resources that you are being offered.
Having attended the amazing institution of Brown University, I asked Hayley what her thoughts were about being employed now, not only at her biggest league rival, but also what is commonly known as the most famous University in the country, Harvard.
Hayley spoke of the history behind the scenes, and how involved the alumni is, and the ties that bond the previous players that have through those hallowed halls.
In the years to come, when people will ask me about the interviewees, and what were some of my favorites, Hayley will be mentioned for sure. She was just a kid who wanted to play the street games with everyone else, and never let the naysayers who told her where girls, and women belonged, and didn't belong.
Future US Hockey players will better for having known her, I surely am.