A story hit the wires on Monday and was widely talked about on Tuesday which, in the end, was precisely what Alabama football coach Nick Saban was hoping for.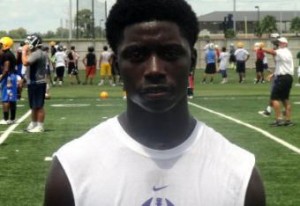 Alabama held its annual Junior Day event last weekend and one of the big stories to come out of the event was a scholarship offer the Crimson Tide coach extended to Dylan Moses, a 6-foot-2, 215-pound athlete from Baton Rouge, La.
So why is it such a big deal? That would be because Moses is in the eighth grade. I grant you, 6-2 and 215 is a serious hoss for an eighth grader, but it doesn't change the fact that we're talking about an eighth grader.
The first thing we all need to understand is that this offer is worth absolutely nothing. It's a verbal offer that Alabama can choose to honor or not when the time is right … you know, in about four years or so, since Moses is part of the 2017 graduating class.
But it does speak to the insidious nature of recruiting.
Just for giggles, I visited the scout.com recruiting website on FOXSports.com. When you click the "Prospects" link at the top of the page, you go to a listing of the top 100 prospects in the class of 2014, next year's senior class. Great, that makes sense to me.
Here's where they lose me. The site has a drop-down menu where you can change the class listing. There are menu listings for the class of 2017, this year's eighth graders, and worse still the class of 2018 already has a page.
It's worth noting that neither of those pages has any listings, but the fact they've bothered to have those pages ready this far in advance is troubling.
I've seen scouting reports on basketball players who are still in elementary school. If this seems vaguely predatory, that would be because it isn't even that vague.
This is what I like to refer to as the crazy backwards part of college athletics. Why would a coach with all those national championships be pandering to an eighth-grader? It's the nature of the beast.
Every coach in the country knows his future employment is directly tied to those teenagers, many of whom can actually find their backsides with both hands so long as they are read the instructions slowly and carefully.
The best coaching tactician the world has ever known will only last so long if that same tactician happens to be a terrible recruiter.
Recruiting has become a 24/7 business; there are people who make their living creating conjecture about high-school athletes … and younger.
Fan bases certainly get into it; sometimes, at least based on a random sampling of reader comments on these recruiting databases, the year-round war of words over recruiting tops the joy these people derive from actually playing those rivals on the field or court.
And for as crazy as the tale of Dylan Moses being offered a scholarship by Alabama as an eighth grader would seem to be, it's not even close to being the craziest.
You see, Moses received a similar offer from LSU coach Les Miles a year ago—as a seventh grader.