In a battle between to rivals, the Braves and Cards will face off tonight to see who earns the right to move on and play the Washington Nationals. Who will win this Wild Card matchup? Read below to find out.
Once you've done that, vote on the poll at the bottom of the article. Make sure you vote wisely, because the winner of the debate gets $5.
[one_half]
By: Baily Deeter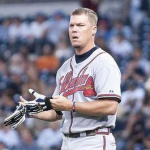 Last year, the Atlanta Braves would've really benefited from a one-game playoff. And this year, Braves fans are finally getting the game they wanted to see last year.
The Braves collapsed down the stretch last year, as the Cardinals swooped in and snatched the final NL Wild Card spot, eventually finishing the season as World Series champions. Atlanta secured the top Wild Card spot this year by performing well down the stretch, winning 94 games. As a result, they will host the Cardinals, winners of just 88 games.
It's hard to believe that a whole season can come down to just nine innings, and one bad, or even mediocre outing can end a season. But that's how it is, and that's how each team has prepared. Atlanta will send Kris Medlen to the mound, while Kyle Lohse will pitch for the Cardinals.
Lohse has three losses (yes, three), 16 wins, and a sub-3.00 ERA. He has been very consistent and dominant this year, and the Cardinals trust him. MVP candidate Yadier Molina, RBI master Matt Holliday, Carlos Beltran, Jon Jay, Allen Craig and others will try to power the Cardinals to the real playoffs, where they would face the Nationals.
St Louis is a good team, and the Braves will be challenged. But, they know how to win big games, and so does their record-setting pitcher.
Unlike Lohse, who has a 5.25 ERA in his last two starts (one of which was against the Cubs), Medlen has coasted into the playoffs. Atlanta has won his last 23 starts, which is an MLB record. Medlen has an insane 1.57 ERA, 10 straight quality starts, two 6+ inning shutouts in his last three starts, 12+ strikeouts in two of his last six starts, and an 0.91 WHIP.
Convinced? You should be.
If the Braves are ahead in the ninth inning, you can lock up the win for Atlanta. Their closer, All-Star Craig Kimbrel, has cruised through a marvelous season, and he is a legitimate candidate for NL Cy Young. Need proof? Just look at his 1.01 ERA, 0.65 WHIP, 42 saves, and 16.5 K/9 rate. Yes, a 16.5 K/9 rate. That means that on average, he strikes out 16.5 batters every nine innings.
On offense, the Braves are talented, too. They have Chipper Jones, Michael Bourn, Jason Heyward, Martin Prado, Andrelton Simmons, Freddie Freeman, and other dominant hitters. Six regulars are hitting well over .250, while Reed Johnson, who pinch-hits frequently and starts occasionally, is hitting .270.
Jones always seems to come up big in the clutch, Bourn has great speed, Heyward and Freeman have an abundance of power, Prado hits very well, and Simmons has lots of talent. Atlanta has the potential to explode any given night, and there's no reason to think that they can't do so.
Medlen and the Braves will be at home, where they have thrived. Lohse has a 3.41 ERA on the road, and opponents are hitting .251 off of him. Medlen has been dominant everywhere, and having the home crowd behind him will certainly help. The heartbreak of 2011 will help as well, since the Braves will be looking to avoid that.
Can they avoid it again? Yes. Will they? Definitely.
[/one_half]
[one_half_last]
By: Jake Dal Porto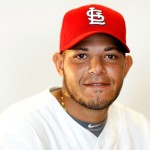 Squaring off in the wild card game will be the Atlanta Braves and St.Louis Cardinals. The Braves have been on cruise control for the past few weeks. They had a sturdy grip on the N.L Wild for much of the year, and they didn't cough it up like last year.
The Braves are certainly the favorites. Their probable starter, Kris Medlen, hasn't lost a game forever, well not forever, but it's been awhile. St.Louis will counter with Kyle Lohse, their undeniable ace of the regular season.
There's just something about the Cardinals that should propel them past the favorites Braves, though.
Medlen Is Facing A Quality Opponent
With all due respect to Medlen, he hasn't faced an offense like St.Louis's as a starter this year. In fact, the only two formidable offenses he has faced are the offenses of the Nationals and Rockies. Yes, he weaved a shutout of Colorado, and only allowed one run to Washington over two starts in 14 innings, but the Cardinals are a whole different animal.
Led by Matt Holiday, Carlos Beltran, and Allen Craig, they boast a very formidable core. As a group, St.Louis scored the second most runs in the N.L along with the second best batting average.
This isn't to say that Medlen doesn't have the abilities to keep St.Louis in tact, but he certainly won't have the benefit of facing a team like the Mets or Marlins.
Two Explosive Offenses
There was a point during the year when St.Louis and Atlanta were the top two offensive teams in the National League. Weeks passed, and the playing field started to balance out, as the Braves began to become too inconsistent at the plate. However, the Cardinals kept mashing away.
The point is that while the Braves certainly do pose a lethal lineup, the Cardinals' lineup has the edge. They have players who can hit the ball over the fence (Holiday, Craig, Beltran,), and they can burst for a big inning which would clearly be the difference maker in a one game playoff.
The Braves on the other hand, are either dominant or dead. It's not time to be dead.
Don't Sleep on Lohse
To no surprise, Medlen is garnering most of the headlines. His story, streak, and everything in between attracts the focus of the various media outlets. However, Lohse had a great regular season that can't be overshadowed.
He went 16-3 with a 2.86 ERA to bolster the Cardinals' rotation. St.Louis could've elected to go with the more experienced Chris Carpenter, or even Adam Wainwright, but they chose Lohse for a reason.
Lohse doesn't pile up the strikeouts, nor does he blow the fastball by hitters, but he's effective and steady. Medlen might be 10-1 with a 1.57 ERA this year, but in the wake of the Medlen chaos, Lohse could end up out-dueling his counterpart. [polldaddy poll=6585800]
[/one_half_last]
[polldaddy poll=6585800]