This game is a tale of two very different teams. The Rangers have been the favorites to win the AL all year, and are very dissapointed to be in this wild card game. The Orioles on the other hand, were expected to come in last in their division, and even some predicted they'd be the worst team in the MLB. Oh, they were wrong.  The Orioles finished the season 14 games above .500, with the same record as the Rangers and a spot in the playoffs. These teams have had two very different paths to get to this spot, but who will ultimately come out on top? Read below to find out.
Once you've done that, vote on the poll at the bottom of the article. Make sure you vote wisely, because the winner of the debate gets $5.
[one_half] By: Baily Deeter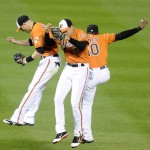 The Rangers were seen as locks to win the AL West, especially when they led the A's by 13 games on June 30. However, they collapsed, and the Orioles didn't.
Baltimore's inexperienced pitching staff rose to the occasion. Their offense picked up the slack when the pitching couldn't, and they thrived in close games. Baltimore set a record for winning extra-inning games, thanks to great work from the bullpen and clutch, timely hitting.
Joe Saunders was a waiver pickup from Arizona, and he was suffering in Arizona. However, a change of scenery helped, as he now has an ERA of 3.67 and three wins in seven starts with the Orioles. He will start Baltimore's Wild Card game against Texas, fresh off of a decent start in which he dominated into the eighth inning.
Yu Darvish takes the ball for Texas, who has slumped lately. The Rangers had to win one of three games against the A's to clinch the AL West, and they failed to do so. Now, they have one game that they have to win, and the ball will go to a rookie.
Darvish has done well lately, but so has Saunders. He has pitched more than five innings and allowed three or less earned runs in his last six starts, and that run includes four straight quality starts. Saunders will try to stop a slumping offense that has averaged three runs per game against A.J. Griffin, Travis Blackley and Jarrod Parker (three rookies).
Josh Hamilton is struggling on offense and defense for the slumping Rangers, who have earned the label of choker thanks to their losses in the last two World Series. However, Chris Davis is the opposite. He hit a towering shot that hit the catwalk at Tropicana Field and robbed him of a possible home run, which ended his 11-game hitting streak. Davis has been on fire, though, and he is the leader of a solid Baltimore offense.
Baltimore has stepped up in big games, while the Rangers have folded lately. Darvish is attempting to stop the bleeding at home, but the Orioles, full of ex-Rangers, are ready. Buck Showalter could win AL Manager of the Year, as he has managed a struggling rotation without a true ace to perfection. Saunders is looking to make sure Orioles fans remember him, and he certainly can.
It will be a good game, but expect the Orioles to come out swinging. They have nothing to lose, while the Rangers have lots of pressure on them. Baltimore will pounce whenever they have the chance, and Jim Johnson, who leads the league with 51 saves, will lock up the win. Johnson has only struck out 41 batters this year, but he locates his pitches and forces weak contact to close out games for the Fighting Showalters.
Johnson hasn't allowed an earned run in his last 11 appearances, and he's only allowed one in his last 25. He hasn't blown a save since July 27, while converting his last 20 opportunities. What does that mean? If the Rangers are behind in the ninth, the game is over.
Then, Baltimore will look to upend the Yankees. [polldaddy poll=6586031]
[/one_half]
[one_half_last] By: Jake Dal Porto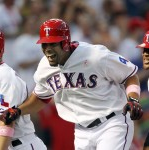 The MLB's newly revised playoff format kicks off the playoffs with a bang by having a do or die one game playoff to determine which team moves on to the division series from both leagues.
The Rangers and the Orioles will be the two teams in the one game playoff in the American League. Texas was swept by Oakland to end the year, and surrendered their divison lead on the final day of the season, explaining why they're in the wild card game. The Orioles, however, are just happy to be involved in the playoffs after several losing seasons in years past.
Yu darvish will get the call for Texas, and Baltimore will counter with lefty Joe Saunders.Here are a couple reasons why Texas has the edge:
The Darvish Effect
After the hype that surrounded Darvish when he signed a hefty contract this past offseason, he endured a year chalk full of ups and downs. But his first season in the majors was ultimately a success and a good investment for the Rangers.
Darvish ranks second on the Rangers' staff with 16 wins and a 3.90 ERA amongst qualified starters. So frankly, there's little to question in the Rangers' decision to send him to the mound for the one game playoff on Friday.
Darvish follows a trend that most rookies or new pitchers generally follow in that he succeeds against teams who he's facing for the first time. The numbers can support that too, as He had a 3.71 ERA against the teams he only faced once this year. The notables in that group include the White Sox, Yankees, and the Red Sox.
Plus, the Orioles are one of the worst disciplined teams in the majors at the plate which will surely work in Darvish's favor given his nasty repertoire of pitches.
Baltimore has an O-Swing percentage of 31.6, the fourth highest in the A.L. Naturally, their free swinging approach leads to an ample amount of strikeouts. As a team, they own the third highest strikeout percentage in the A.L with a 21.3 mark.
To counter those numbers, Darvish's 10.4 strikeout per nine innings rate is the second highest in baseball and he also has the second highest swing and miss percent in the A.L with an 11.8 mark.
To put things into simpler terms, it's a free-swinging team against a strikeout pitcher who has at least six pitches he can throw to gather swings and misses.
I'll let you decide. Are the Orioles and Darvish a good combination? Hint: The answer starts with an "N".
Camden Yards Delight For Texas..And Josh Hamilton
The hitters' friendly Camden Yards is a welcoming sight for most offenses, but the Rangers take that statement to a different level.
This year, Texas averaged nine runs per game in Baltimore over four contests. Obviously, they found success, winning three of four. And overall, Texas has averaged eight runs per game against Baltimore in seven games in which they went 5-2 to easily win the season series.
While the Rangers as a group treat Camden Yards like a punching bag, it was practically the Josh Hamilton show during those four games.
The slugger smacked six home runs in Baltimore over four games which was in 17 at-bats. Read that again, would you? Six home runs in four games. His historical four home run game clearly played a huge part in that inflated total, but nevertheless, it was quite a feat, and a major concern for Buck Showalter's club.
In addition to beating up Camden Yards, Hamilton rips up Baltimore pitching anywhere. In seven games, he recorded a triple slash of .357/.438/1.036 against the O's this year. While he didn't face Joe Saunders (Friday's probable starter for Baltimore) in any of those games, he feasts on him as well with a .400 batting average, a home run, and six RBIs in ten at-bats.
To make matters a bit worse, Hamilton struck out three times on Wednesday afternoon, and dropped an easy fly ball en route to Oakland's 12-5 thumping which earned them the division crown.
He wants revenge and there seemingly isn't a better match up then Baltimore for the left-handed slugger.
[/one_half_last]