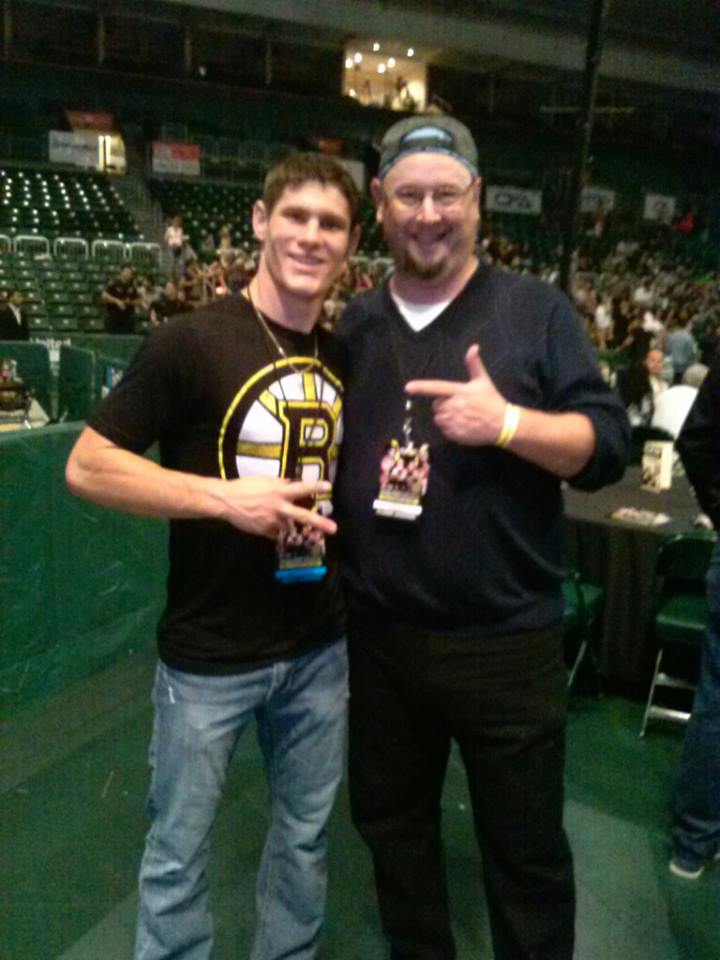 Charles grew up playing Hockey and Lacrosse from an early age, and remembers one Hockey trip in particular when at around 14 years old; his team went up to play in Lake Placid, NY, Where the 1980 USA Team had beaten the Russians.
The cool part was playing teams from all over the world, but they got beaten pretty badly by the Canadian Team, who he said all looked like full grown men. He thinks the score was like 18-2, but it was a great lesson in not giving up.
Playing to the end, since checking was allowed, he just kept playing balls to the wall, and ramming into people. At game's end, the Canada coach commended him, by saying that he had more heart than anyone he had ever see, and I wish some of my players would play like that.
Following in the footsteps of the older brothers, who were great athletes, was not a problem for him. His father didn't apply pressure in the result of the game, just that you gave your all, was what he used to tell them.
A great childhood memory as a fan in person, had to be when his Uncle Tommy took him to a Bruins vs. Canadians playoff game, where Marc Savard scored in Overtime to win the game.
It was in Boston, but the Montreal squad had plenty of fans there, and there were these bozos sitting right in front of Charles, with his Canadian Flag, waving it the whole night, blocking his view. After the OT goal, a brawl almost started, as Charles said the crowd was going nuts.
In his Travel Team for Hockey, around the age of 15, he told me any time they played the team from East Boston, he get into a fight with the same guy on the ice, for maybe 5 or 6 games that season, and then once, they even fought outside of the locker room.
His earliest roots of pugilism training, started out in the standard kids Karate, so many of us take, and he said he's actually started using some of it, in his fights again, but most of the training was just your normal kid stuff, of throwing on the boxing gloves with the brothers, and friends, and having a free for all brawl.
They did it on a trampoline, and the rules were you go till you knock the other guy off of it, or submit him.  Another point he made, which is quite fascinating is it was kind of their own little MMA Academy, in which each guy kind of had their own special skill set. One guy was a better wrestler than the rest, another had fast hands, one guy might have done submission locks better, and so forth.
He has recently started his professional career, after a stellar amateur one filled with victories and titles, but what makes him a name to watch off the hop is that he is about helping others through his own tragedies. There aren't many people who don't have some skeletons in their closets.
I sure do, which is why this story is important to me, but this guy has lost Two brothers to drug addiction, his father also fighting a now successful daily battle as well, and Charles himself, having to move some 1500 miles to battle his own sobriety.
Charles, and his team at American Top Team led by Charles McCarthy are huge factors in the process of letting this new generation of athlete know that the impact of sports, friends, family, and teammates can really lend a positive effect.
Charles's father goes by Chucky, and every single day in the cold waters of the Atlantic, he will go in for a quick dive in the water to visit the ashes of his two fallen sons, Domenic and Vincent, who lost their battle to drugs.
Chucky invites people to come and join him on his daily pursuit to Educate and Empower youth in making healthy choices in their lives. He does not miss a day, no matter what the weather.
The family story, and video coverage of his dips in the ocean, as well as the background of the foundation can be found on the following website address
http://www.chuckysfight.com