Let's be honest. Being in the NBA doesn't exactly make you a superstar. In fact, more players than not, are not even known by fans. In the league, there are superstars, stars, roleplayers, and the scrubs. I'm not saying a player has to be famous to be any good, but some players certainly are glorified more than others. Kevin Durant is friends with Lil Wayne, LeBron is allegedly buddies with Jay-Z, and the entirety of the New York Knicks have to put up with Spike Lee. Superstars are loved by other superstars. As Skip Bayless oh-so wisely says, it's human nature.
But what about the blue collar fans? The ones who only get to see the games nationally televised because they don't get cable. The fans whose team hasn't been good in years or attracted any kind of star. The fans who must flock into pubs just to catch some ball. These fans are not flashy. They are not the Kobe's, LeBron's, Howards, or Anthony's of the world. To fans like these, it is the smallest players who have become the greatest heroes. These heroes often have literally nothing going for them except for sheer size or postgame interview wit. But despite their lack of vertical leap, or actual minutes playing basketball, they have a special place on the bench, and in our hearts. This is a list of the superstars ignored by the league, but loved by the fans.
Brian Scalabrine, Chicago Bulls, PF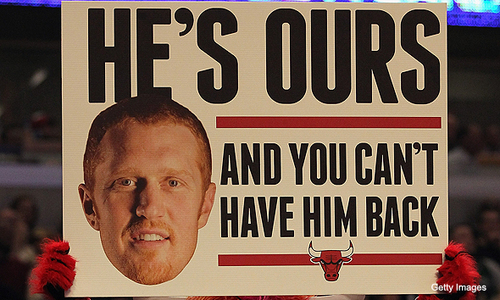 What better place to start than the "White Mamba" himself, 2008 NBA Champion, most written-in on the all-star ballot, and the player with more fake twitter accounts than career minutes played. Ladies and gentlemen, I give you the King of NBA Cult Heroes himself, Brian Scalabrine. Known to fans and commentators alike simply as "Scal", Brian Scalabrine has worked his way into the hearts of fans everywhere he goes, simply by doing nothing. He has had tenures in New Jersey, Boston, and most recently, Chicago. While in New Jersey, he was known as the "People's Champ".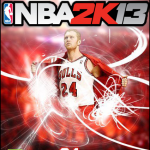 His beauty lies in his appearance and play style, both of which are not unlike that of any fan in the building. Brian Scalabrine's muscles are not popping out of his jersey. He does not dunk on every possession. And he sure as heck doesn't have a signature shoe. To be frank, he is a big, awkward, white, ginger guy that looks like he should be watching the game on his couch, rather than the bench. It is for this reason that he is not ignored, but adored. He gets more "MVP" chants than anyone I have ever seen. He is literally cheered into games when the Bulls are winning in a blowout. He is essentially a human victory cigar for his coach, yet loves every minute of it. Whenever he steps on the floor, Brian Scalabrine does not shuffle his feet and wish he was starting, he hustles like the game depends on it. And for you Scal, it might as well. We might not all be in line to get the latest "Air Scals" or be rocking his jersey, but Brian Scalabrine is a hero to us all.
Javale McGee, Denver Nuggets, C
Aside from LeBron James, I cannot think of a single player in the NBA that is made fun of more than the
Don't get me wrong. To be in the NBA , any given player must have an immense basketball sense. Basketball is a game of strategy as well as athleticism and power. But that is where we begin to wonder how Javale got in at all. Aside from his questionable play, McGee is a bit of an oddball in other aspects. For starters, he is 7 feet tall, yet has a 7 and a half foot wingspan. He may be 7 feet tall, but he is no Shaq. Denver Nuggets' Javale McGee. McGee has a starting role, a huge contract, large stats, and enough dunks to fill more than a few highlight reels. With all this going for him, what makes McGee a cult hero and not a superstar? He has the same basketball IQ as David Stern's toupee. For all the highlight reels of McGee being a superhuman with his monster dunks, and inhuman blocks, you could fill another highlight reel with all the stupid things McGee has done on the court as well. Usually when you hear about a player acting stupid, you think of bringing guns in the locker-room, driving while intoxicated, or punching fire extinguishers. Not for McGee. When people accuse Javale McGee of lacking in the intelligence department, they are talking about when he runs the wrong way on a play, commits the most obvious goaltending, or fouls someone to kingdom come.
McGee is gangly, and thin. Picture Kevin Durant, but even taller. The icing on the cake is McGee's tattoo of a mustache on his finger. When held up to his face, McGee releases hi alter ego: "Pierre". Kobe has a tattoo of his ex-wife's name, Paul Pierce has one that says "The Truth", Shaq had the Superman logo, and Javale McGee has a mustache. A mustache. Need I say more?
Steve Novak, New York Knicks, SF
I am convinced that is Novak was in virtually any other city besides New York, he would be an even bigger hero. Despite the giant shadows cast by Carmelo Anthony and Jeremy Lin, Steve Novak is the perfect example of a cult hero. Novak, much like Brian Scalabrine, is tall, white, and awkward. He comes off the bench for Carmelo Anthony, and is not known to average mass amounts of anything. But oddly enough, every now and then, Novak goes off. Steve Novak was the best three-point shooter in the league last season, and likes to remind his teammates of just that every now and again, usually by draining three after three after three, or simply by being clutch again and again. Novak is so dedicated to his craft of long-distance clutch shots, he only took two shots in the paint last season. Two shots! The best part? He missed both of them. Novak rarely makes major contributions to the Knicks, but when he wants to, he certainly and effectively does. While Steve Novak may not be as widely recognized as Carmelo Anthony, he is famous in his own right. Partly for being such an odd-duck, and partly for committing acts of random clutchness.
Conclusion
It is not the Kobe's and LeBron's that make basketball so much fun to watch, it is the Scalabrine's, McGee's, and Novak's. It is the overweight players, the scrawny players, and the eccentric players that make us love the game. Nobody relates to Carmelo Anthony as he drains the game winner. Nobody feels Dwight Howards sense of accomplishment as he dunks all over and undersized defender. But when we see Scalabrine score his first bucket in a month, or watch as Javale McGee accidentally runs over his own teammate, it reminds us of that pickup game we played the other day. This is why these players have become the heroes that they are. They may play for whatever name is on their jersey, but deep down, we know they play for us.