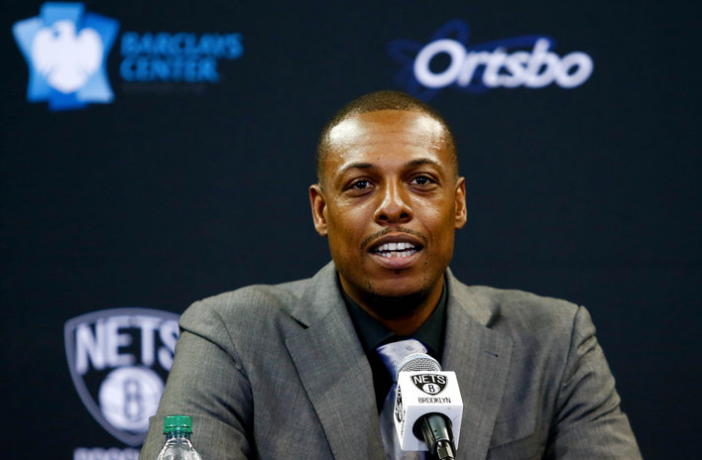 The 2013 NBA season is about to get under way with training camp beginning in about two weeks. There are questions every team must answer, none more than the Brooklyn Nets. The Nets are going to have to figure out how to get a team to gel that has a new coach – the third in just it's second season in it's new city – and quite a few new players. And they must figure it out in a hurry because there are lofty expectations placed on this year's edition of the team. With the additions of Paul Pierce, Kevin Garnett, Jason Terry, and Andrei Kirilenko, the Nets are expected to go further than their first round playoff exit of a season ago.
It must be nice for the Nets and their fans to confidently have that expectation. After all, it wasn't that long ago that the franchise was mired in a battle with the Charlotte Bobcats to be the most abysmal team in the NBA. Just three seasons ago, they were an abominable 12-70. Lawrence Frank had seemingly lost control of the team and the post-Kidd era wasn't looking good at all. In stepped Mikhail Prokorov.
Prokhorov is the Russian billionaire who decided to buy a majority ownership stake in the franchise and brought with him the flair and brashness of being super-wealthy. Ownership decided to ditch New Jersey for the sexier Brooklyn locale. They left behind the red, white, and blue color scheme of yesteryear for an edgier black and white. And they abandoned the strategy of building a team solely through trades, draft picks, and somewhat frugal free agent signings for headline-grabbing trades and outsized free agent contracts. The result: a new more energized fan base, arguably the NBA's hottest jerseys, and $83,431,858 in payroll for the 2012-2013 season, good for third in the NBA.
The team got off to a so-so start, but ended the regular season with the best record since they made a trip to the NBA Finals in 2002. Unfortunately, the playoff run was short lived. The Nets lost in 7 games to the Chicago Bulls. Given Prokhorov's desire to win and win now, major moves were made this offseason.
The first move was to bring Pierce, Garnett, and Terry to Brooklyn for Gerald Wallace, Marshon Brooks, and Kris Humphries. This added championship experience and three players who are also in "win now" mode. Brooklyn then signed Kirilenko in a move that ruffled more than a few feathers of NBA executives. There are questions about how the Nets were able to sign him for a fraction of what he was requesting from other teams that were interested in his services. What Kirilenko brings to the table is depth at the small- or power- forward position, strong defense, and opportunistic scoring at a fraction of the cost they were paying Humphries. The roster has since been filled out with Shawn Livingston, the re-signing of Andray Blatche, and rookie Mason Plumlee.
From top to bottom, the Nets appear to have improved their roster. The question still remains as to whether or not Deron Williams can effectively run the team. He has to make sure there are enough shots for Joe Johnson, Paul Pierce, and Brook Lopez. He also has to decide who gets the ball in the closing moments of tight and important games. Jason Kidd has to figure out being the first year coach of such a talented team with such high hopes for an extended post season run. As great a player as he may have been, it is unfair to place championship-or-bust expectations on him so soon.
One thing we can all be sure of is that this will be a season to remember.
Photo credit: Debby Wong-USA TODAY Sports